XC4, XC6 – the GHS label printers for two-color printing
Two in-line arranged thermal transfer print units for simultaneous two-color printing in one label.
With ribbon saver at one print unit.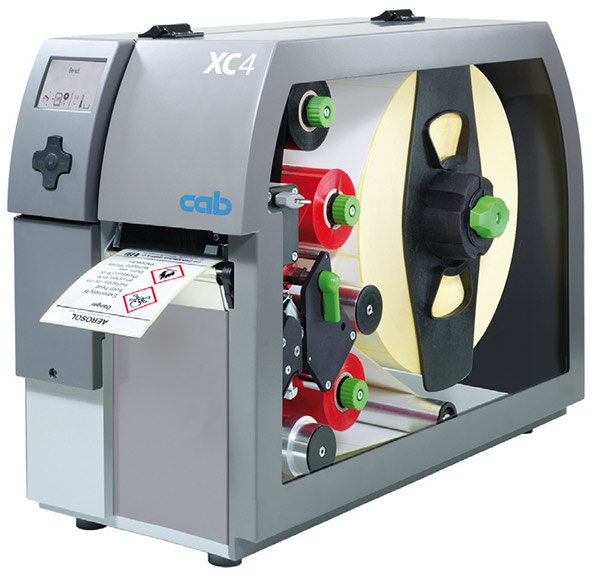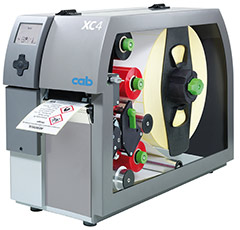 The XC series meets the conditions for the classification and labeling inventory according to GHS.
For large label rolls up to 300 mm diameter
The two print units including ribbon holder, operation panel and electronics are adopted from the proven A+ series
|  1.9 Label printer | XC4 |
| --- | --- |
| Printable resolution dpi | 300 |
| Print width up to mm | 105.6 |
| Print speed up to mm/s | 125 |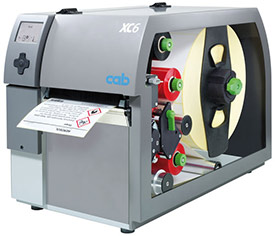 |  1.10 Label printer | XC6 |
| --- | --- |
| Printable resolution dpi | 300 |
| Print width up to mm | 162.6 |
| Print speed up to mm/s | 125 |
We are glad to assist you in the selection of proper ribbons.
Accessories for label printer XC series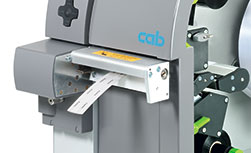 Cutter
Used to cut paper labels, self-adhesive labels, cardboard, textile or synthetic materials as well as heat shrink tubes.
Perforation cutter
For XC4 printers only. Enables the perforation of the material for later manual separation.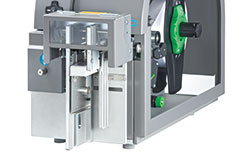 Stacker with cutter
For XC4 printers only. Printed materials are cut and stacked. The print job is stopped as soon as the maximum stack height is reached. Even stiff or curved materials may be processed. We recommend to have your material tested at our facilities.
1. Wide graphic display
White backlight for optimum readability.
2. Ribbon holder
Simple, centered insertion of the ribbon with three-part tightening axles.
3. Simple adjustment
The print head is pressed down by toggles. One is mounted to the left label margin, the other is pushed to the right label margin.
4. Peripheral connection
All add-on modules are easy to connect. All peripheral devices are plugged in the printer using two pins and are fixed in place with a screw.
5. Solid metal housing
Die-cast aluminum. All components are mounted on it.
6. Roll holder
For labels up to a diameter of 300 mm. Swing lever and integrated brake make sure that the labels are unwound with constant tension.
7. Ribbon saver for printhead 1
The ribbon saver is used for labels to be partially printed. The print head is lifted within the unprinted area and the ribbon stopped during label feeding.
8. Fanfold guide
Fanfolded labels are positioned behind the print unit. Guide and additional brake ensure a reliable feeding to the print unit.
ZEBRA ZT510 – NEXT-GENERATION PRINTING THAT IS BUDGET-FRIENDLY

Designed to strike the ideal balance between performance and value, the Zebra ZT510 includes the core features you need in an industrial printer at a cost-effective price point.

View Product

---

ZT400 printers feature USB, Serial, Ethernet and Bluetooth® connectivity along with expanded RFID capabilities. Plus, with Zebra's Link-OS® environment, an innovative operating system, your customer can easily integrate, manage and maintain these printers from anywhere in the world.

View Product

---

ZEBRA ZT600 SERIES – INDUSTRIAL BRAWN FOR EVERY CHALLENGE

Advancing the legacy of the industry-leading Xi Series, the Zebra ZT600 Series printers combine rugged durability and exceptional performance on a user-friendly, future-ready platform.

To keep your critical operations running smoothly, you need high-performance industrial printing systems that can stand the test of time, both physically and technologically. Zebra's ZT610 and ZT620 advance the legacy of their industry leading Xi Series predecessors, offering next-generation operational visibility, control and adaptability to meet your evolving needs—all with the rugged durability and 24/7 reliability you expect from Zebra.

View Product

---

The NX Series is a game-changing innovation that is made easy. It is designed to be so easy to use and maintain that anyone can feel the difference from the day they start using it. The new NX Series comes loaded as standard with many different features to make operation and maintenance easy.

View Product

---