Working on a marketing campaign for your product line?
If you want to give one of your products a boost by using a coupon or start a social media campaign with an online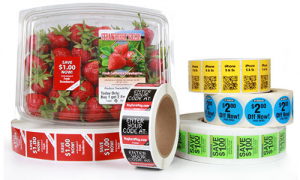 game, we have some great ideas for you. Coupon labels help a customer finalise a borderline decision.
Variable data like game codes can be imprinted using our laser or UV inkjet coders on press when the labels are printed.
Check out our Booklet Labels
---
Promotional Label Tips
Materials:
Coupon label construction use general purpose or all-temperature adhesives while peel-off coupons or game pieces use a removable adhesive.
Sandwich labels have a peel-off reveal that stays on the product while the game piece comes off without adhesive.
Artwork:
Coupons should be a bright colour to attract the buyer's attention.
Large type stating the coupon's offer is essential to get the message across fast and accurately.
Variable game codes or messages can be imprinted using laser or UV inkjet coders while on press.