From origin to destination, throughout the journey we stick with you all the way.
Logistics, warehousing and transport of goods is becoming more and more important. Weber Packaging Solutions packing labels are rugged and durable, designed to withstand handling wear and tear and environmental and weather conditions. Our in-house experts have developed best-in-class adhesives, finishes and inks so we can provide solutions for even the most difficult applications.
We also use the most up-to-date barcoding and variable data printing and scanning technologies to track and trace items from end to end in the supply chain. Direct thermal and thermal transfer labels are the perfect choice for your courier, warehousing and compliance requirements.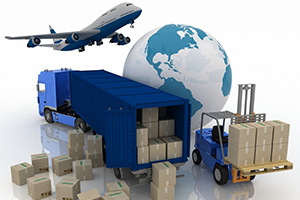 Packages can be lost if labels become damaged or removed, preventing delivery and leading to lost revenue and disappointed customers. Our high quality paper direct thermal labels and thermal transfer labels ensure that your barcode and text will be clear and legible with maximum scalability.
How has Weber provided solutions in Logistics?
Shipping and receiving labels
Inventory control labels
Bar-coding, scanning and Indexing variable data
Distinctive and colour coded warehouse labels identify shelving and storage areas
Pallet labels which are clear and precise for accurate distance scanning
Rugged and durable hand-held mobile receipt printers
We also offer a wide range of hardware, software, materials and expertise to meet your logistics coding needs. Weber Packaging Solutions provides integrated labelling solutions that are uniquely engineered to streamline specific product identification and handling operations. Many logistics, warehousing and transportation companies have utilised Weber's wide range of integrated systems. Each one is uniquely engineered to address a specific application, yet flexible enough to fit seamlessly into an existing packaging line.