Thermal Transfer Ribbons
Ribbons to print all your variable data on labels
Thermal Transfer ribbons are the essential ink consumables that fit into Thermal printers to print labels with product traceability and identification data.
Based on the chemical formulation of the ink, Thermal Transfer ribbons differ from one another to offer different cost/performance solutions.
This is why Weber has selected ribbons in each ink families: Wax, Wax-resin and Resin in order to bring a solution to almost all label printing need.
Weber's long experience with Thermal Transfer printing has given us a broad understanding of exactly which ribbon is best suited for any application  (product identification, work-in-process, inventory control, shipping, etc.).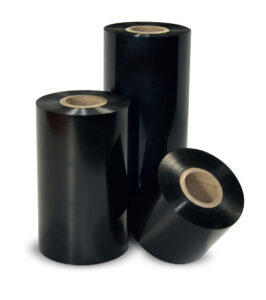 Our Products
What are the differences between ribbons?
There are 3 families of Thermal Transfer inks: wax, wax-resin and resin
A Thermal Transfer film is made of several components:
– the base film is made of a 4.5µ thick PET. It is the carrier on which the different layers are applied
– the backcoating is a very smooth layer that protects the printhead when the film is unreeling of
– one or several ink layers are coated depending on the intended label printing need.
Wax ribbons
Wax-based Thermal Transfer ribbons are competitive solutions specifically made to print on rough vellum, matt coated and glossy coated papers​.
These ribbons are designed to print any kind of barcode or identification data for short-life labelling needs in inventory, shipping, logistics, shelving, retail and pharmaceutical applications.
Weber offers 3 wax ribbons: Ecomark, Easymark, Plusmark
Wax-resin ribbons
The ink formulation is a blend of wax and resin components giving these grades a superior technical aspect. Compared to a wax ribbon, a wax-resin ribbon will give a
-better print sharpness for a top visual aspect and readability,
-higher label material compatibility to print on any substrate, from rough papers to synthetics,
-high-speed printing capability suitable with high pace production lines,
-Stronger resistance to external stresses to guarantee the legibility on a longer period of time.
With these qualities, wax-resin ribbons respond to a wide array of labelling applications in the logistics, agri-food, pharma, cosmetics, production and distribution sectors.​
Discover Duraprint, the wax-resin ribbon by Weber.
Resin ribbons
Resin based inks are designed for the most demanding applications where high print quality and high durability are a must.
Some labels endure agressive stresses during the production process of the good they are attached to, or all along the product life cycle. Resin ribbons will resist to severe manipulations, presence of solvents, to hot or cold environment, smudge, long term durability, etc.
These conditions are rather normal in industries like automotive, aerospace, chemistry, pharma, food, electronics or textile for example.
Weber offers the resin grade Ultraprint, the durable ribbon for harsh environment.