Product Traceability, Brand Protection, and Process Control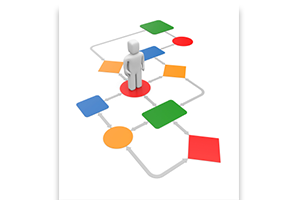 With certain consumer goods manufacturers must have a number of systems in place so that they can provide a trail of information that goes through the supply chain for each item. This allows insurance for product safety in the case of a recall, so the producers can act quickly, efficiently and locate items that may be faulty that could cause or pose a hazard to their consumers. In order to achieve this a lot of companies are now implementing 2-D barcodes, vision systems and image–based ID readers as crucial components in a traceability system.
As a standard, Data Matrix has been adopted into many applications as it allows more storage, such as Product ID, Manufacturer, Expiry etc.
Brand Protection
Aggregation with serial numbers for security in the supply chain and verification of products on the point of sale can help stop forging, diversion and unapproved sales.
Additionally, improving material handling and logistics proficiency and flexibility, product excellence and revenue, and package safety and reliability, machine vision can also be applied on the processing side to reduce scrap, improve productivity and quality control as well as enhance brand image. A vision system can sort food and beverage products by colour and/or shape. It can also identify defects, count, verify assembly and detect fill levels. By doing so this achieves improvement with manufacturing and packaging.
Orienting bottles is another application, sorting bottles based on their shape. Machine visioning can recognise properly facing bottles and permit them to pass through. Incorrectly facing bottles are identified by the vision sensor which signals the mechanism to switch the bottle to the correct position.
Traceability:
The better and more precise the track and trace system, the faster you can identify and resolve problems.
Improves management of work in progress
Reduces inventory
Optimises availability and use of production tools
Minimises distribution of non-conforming products