Heavy-duty labels for harsh environments
Weber's line of durable film label materials are specifically designed to maximize long term performance of labels on products that need heavy-duty labels that last.
A heavy-duty label is intended to remain with a durable product throughout its life and must withstand possible hostile environments such as exposures to chemicals, extreme temperatures, or UV light. Additionally, the label often must be recognized by UL as being a component itself of the durable product.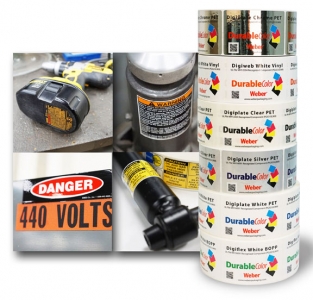 Durable products, such as tools, automotive parts, warning signs, consumer electronics, industrial machinery and more need labels that will withstand repeated use, abuse and harsh weather.
Durable Label Products:
---

Materials:
Three new product categories of digital label materials are now available from Weber:
Digiflex BOPP, an economical material perfect for printing decorative graphics.
Digiweb Vinyl, a material for curved surfaces.
Digiplate PET, a strong material suitable for flat industrial surfaces.

Artwork:
Use bright colours when creating warning labels to make sure they are seen.

After printing the labels, we cover them with our PET over laminate film to achieve a long, durable life.

Low-print volumes of just 500 labels are available when using digital printing and our new durable digital materials.