OEM Auto Parts Labels
Product ID labels on your OEM auto parts have to last the life of the product. And more than likely, that will be a long, tough life cycle. Weber can help you pick the right materials to ensure that your labels continue to work through all kinds of weather and harsh conditions. OEM labels need to retain readability for technical and installation information as well as keeping the products brand image in front of the consumer.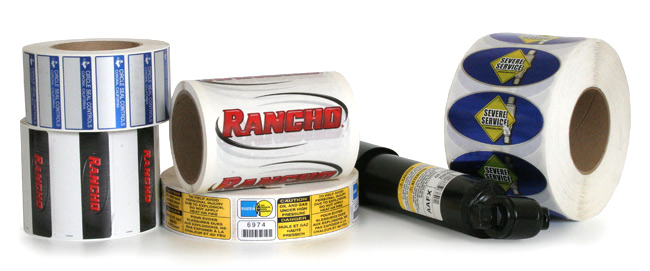 OEM Automotive Labels
Materials:
Durable, UL-listed vinyl and polyester label facesheet and adhesive combinations make your label work for demanding, long-term applications.

If your package contains petroleum distillate or other liquids, be sure to chose a printing process and lamination to prevent label damage.

Metallic label materials can add value to your logo and help get your product noticed.

Artwork:
Labels need to be eye-catching to compete on the shelf in automotive after-market stores.

Use bold fonts to make it easire to read the fine print on parts labels.

Add bar codes, QR codes and other important information to make it easier for the consumer to identify the part after long periods of service.
Adobe Reader is required to open and view PDF files. This can be downloaded free from adobe.com.
Available Documents
The Epson C7500 inkjet label printer is a fast, full-colour label printer whose rugged design allows minimal maintenance, low cost of ownership, and is ideal for busy, on-demand labelling environments.

The Just-in-Time Colour printing lets you print the labels you need, when you need them, quickly and economically. The C7500 uses durable inks that won't smudge, smear or fade. And the highly durable labels are up to 50% lower in cost than laser or thermal-transfer printed labels.

View Product

---

The perfect colour printer for GHS and medical device labels.

Now you can dramatically reduce colour label costs, increase operational efficiencies and quickly produce high-quality colour labels with Just in Time ColourTM printing on Epson's high-speed ColourWorks C3500 Inkjet Label Printer. This compact inkjet printer is perfect for in-house on-demand printing of small GHS chemical labels, short run food labels, medical device labelling and more.

View Product

---

Blank labels are used in all industries for documentation and tracking and in logistics. The relevant labels are marked using the thermal direct or thermal transfer method; Weber also supplies the relevant printers for any conceivable purpose.

View Product

---

Brands and high-quality products need suitable labels to represent the image and reflect the branding. Weber Marking Systems is geared for the production of high-quality primary and pre-printed labels for any application.

View Product

---