Epson C7500 High-Speed Inkjet Colour Label Printer
The Epson C7500 inkjet label printer is a fast, full-colour label printer whose rugged design allows minimal maintenance, low cost of ownership, and is ideal for busy, on-demand labelling environments.
The Just-in-Time Colour printing lets you print the labels you need, when you need them, quickly and economically. The C7500 uses durable inks that won't smudge, smear or fade. And the highly durable labels are up to 50% lower in cost than laser or thermal-transfer printed labels.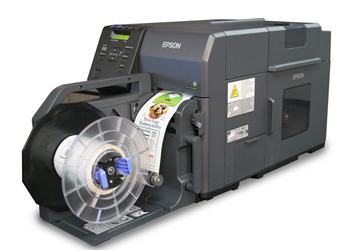 Features include:
• PrecisionCore TFP printing with Nozzle Verification Technology
• BS-5609 certified for durability
• Prints labels up to 4.1″ wide
• Uses high-yield ink cartridges that are easy to change
• Fast print speeds of up to 11.8″ per second
• Optional label rewinder for distributed applications
High-speed colour label printing
If you are looking for high-speed, in-house on-demand colour label printing, the Epson C7500 is for you. With durable smudge-resistant inks, this printer can crank out labels at up to 11.8″ per second.
Its astounding image quality is a result of the PrecisionCore inkjet technology that Epson uses to deliver precise barcodes and ultra-sharp text. And the built-in Nozzle Verification technology constantly checks for clogged nozzles and halts printing to clean nozzles when needed.
The highly efficient printer uses high-yield ink cartridges so there are fewer interruptions and less down-time during print cycles. The ink cartridges are easy to replace and a lot simpler to use than thermal-transfer ribbons or laser toner. The C7500 is up to 50% lower in printing costs versus laser or thermal-transfer printers printing the same labels.
With the built-in ESC/Label language capabilities, you can use the printer with your existing workflows and even add colour with simple programming extensions.
The Geset 141 semi-automatic all-round labelling system is used for labelling small tins, bottles, jars etc. This solution was developed especially for companies requiring flexible labelling of small batches. Classical applications include the pharmaceutical and cosmetics industry and the food and beverage sector.

View Product

---

The Markoprint Integra PP108 is the first inkjet printer with SEIKO printing technology and a circulating ink system. It features a POZIFLOW circulating ink system which prevents the accumulation of air in the nozzles and ensures a permanent, clean print image without missing print due to blocked nozzles. The system's ink tank can be installed above, below, or at the same height as the print head without any problems. The new SEIKO printhead has a print height of 108 mm and achieves a remarkable speed of up to 150 meters per minute with a high resolution of 360 dpi.

Suited to Dual Colour Printing Applications such as Hazard Labelling, Dual Colour overprinting and Direct Printing Applications to corrugate, and web printing applications, the PP108 is the latest high end, economical Inkjet System using the latest Drop on Demand Printing Technology.

View Product

---

The Markoprint ZTV HP is a Central Ink Supply (CIS) system stores up to 400ml of ink for Markoprint HP Class inkjet printing systems such as the Markoprint integra One, Markoprint X2JET / X4JET, and Markoprint integra Quadro.

The large ink tank prevents frequent cartridge replacements from lowering your Overall Equipment Effectiveness (OEE). It can hold up to four single HP cartridges repaying you rapidly thanks to reduced ink prices. For non-interrupted production, the system can be paired with our NonStopPrinting printhead. Using an interface directly on the cartridge, current ink filling levels are monitored in real time. When the levels in the bulk tank fall below a certain threshold, a valve to the bulk tank opens and automatically refills it.

View Product

---

To enable continuous marking in ongoing production, our Markoprint NonStopPrinting printhead holds two alternately printing cartridges. Because the other ink cartridge is printing on the same position, each ink cartridge can be changed, cleaned, or serviced without pausing the machine.

An intelligent automatism prevents both cartridges from going empty at the same time. The first cartridge will always print two consecutive print jobs, taking turns with the second cartridge, which will only print one. This sophisticated automatism avoids both cartridges from running out at the same time. This will keep the ink from drying out in both cartridges. When the cartridge with the larger print volumes is empty, a warning will show, and the other cartridge will continue printing until it is replaced. The new cartridge will print the lower quantities to allow for you to replace the "older" cartridge. A sophisticated workflow that will boost your efficiency and productivity.

View Product

---