Epson ColourWorks™ C3500 Inkjet Colour Label Printer
The perfect colour printer for GHS and medical device labels.
Now you can dramatically reduce colour label costs, increase operational efficiencies and quickly produce high-quality colour labels with Just in Time ColourTM printing on Epson's high-speed ColourWorks C3500 Inkjet Label Printer. This compact inkjet printer is perfect for in-house on-demand printing of small GHS chemical labels, short run food labels, medical device labelling and more.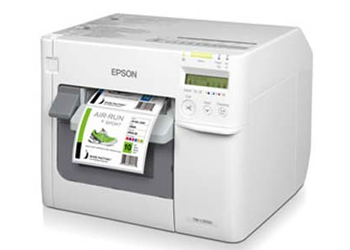 Compact, robust design for commercial use
•High print speed of up to 4 inches per second
• High-quality, four-colour inkjet printing (CMYK)
• Individual ink cartridges for efficient use of ink
• Supports all major label applications
• Meets BS5609 certification2
• USB and Ethernet connection interfaces
Colour labels are the new standard
Today there is a growing demand for the use of colour labels that feature colour codes, photos, and graphic images to highlight relevant information. This is especially true for the new GHS label requirements. This trend sharply drives up the number of label variations and increases label production complexity. Epson's ColourWorks C3500's ability to produce full colour labels on-demand makes it the ideal solution.
Advanced features
Epson's compact, four-colour C3500 inkjet printer features fast printing speeds up to 4 ips, a banding reduction mode and a nozzle check system that produces a reliable output of labels with excellent image quality. In addition, it offers easy-to-use features such as an auto cutter, easy paper loading and an LCD with printer status readouts.
Superior print and ink quality
Epson's patented MicroPiezo® inkjet technology together with its DURABrite® Ultra Pigment ink ensures labels with crisp, clear, easy-to-read text and barcodes and vibrant graphics that resist smudges and water even on plain paper. And with the C3500 you can print on a wide range of media from plain paper to matte and glossy label stock. I t handles roll-fed or fanfold, die cut or continuous label media.
Significantly lower your costs
With Epson's C3500 printer you can dramatically reduce the cost of your label operations. Instead of maintaining an expensive inventory of pre-printed colour labels, you can print the labels you need when you need them. In addition, the C3500 features individual ink cartridges for a more efficient use of ink and a very low cost of maintenance.
Reliable and flexible
Designed for higher-duty commercial environments, the rugged C3500 is dust and water-resistant and built to last. It has an MTBF of 88 thousand hours.
The Geset 117 labelling system is used to label square products on the top and bottom side automatically. Depending on the type and dimension of the product, different label sizes are used. The products are fed manually or by a conveying system provided by the customer at an infeed passage on the labelling system. Care should be taken on accurate alignment of the products. It is essential that the products are forwarded separately to the applicator with a gap between each other.

When the light barrier is reached, an application trigger is tripped. Both label applicators apply then in Wipe On procedure a label onto the product. The label on top side is pushed on the product by a brush or roller. The label on bottom side is pushed on the product by the self-weight of the product. After labelling the products move on and can be removed from conveyor by the customer.

View Product

---

Enable Performance. Inspire Potential. Experience The Difference.

Today more than ever, the increasing demands of international commerce and its global supply chain are pressuring companies to deliver more — and to do it faster. From manufacturing to logistics to the end customer, success is driven by the ability to quickly move and track the products that drive your business.

Address it all with Zebra's FS40 Fixed Industrial Scanner designed to meet the comprehensive requirements of today's production and delivery processes. The FS40 easily keeps pace with the fastest moving operations, enabling track-and-trace through the automatic and flawless decode of information on every part and package as it moves through production, storage and fulfilment — capturing even the most challenging barcodes. The result? Best-in-class production, warehousing, distribution and logistics processes that inspire businesses to reach their highest potential.

View Product

---

Labeling systems are not always easy to integrate into preexisting production lines. The Markoprint Integra One can be easily integrated into production processes thanks to its compact dimensions of 186 x 86 x 98 mm. The printing system has a display for data entry as well as system settings modification and verification. This information can also be viewed from mobile devices if the WLAN version is selected.

Inkjet printers should be properly protected if they are subjected to harsh manufacturing circumstances. In addition, the Markoprint integra One ip has an IP 65 protection rating. As a result, it's ideal for use in the food industry.

View Product

---

The Markoprint ZTV HP is a Central Ink Supply (CIS) system stores up to 400ml of ink for Markoprint HP Class inkjet printing systems such as the Markoprint integra One, Markoprint X2JET / X4JET, and Markoprint integra Quadro.

The large ink tank prevents frequent cartridge replacements from lowering your Overall Equipment Effectiveness (OEE). It can hold up to four single HP cartridges repaying you rapidly thanks to reduced ink prices. For non-interrupted production, the system can be paired with our NonStopPrinting printhead. Using an interface directly on the cartridge, current ink filling levels are monitored in real time. When the levels in the bulk tank fall below a certain threshold, a valve to the bulk tank opens and automatically refills it.

View Product

---