Markoprint X1JET HP HandHold
The Markoprint X1JET HP HandHold inkjet printer is a versatile, mobile, industrial, small character inkjet printer. The X1JET HP HandHold is battery operated and will print high resolution text and images without being fixed to a production line. The long-life battery allows you to print over an extended period of time. Configuring the device and uploading of print images is a simple task using a USB stick and the Markoprint iDesign software.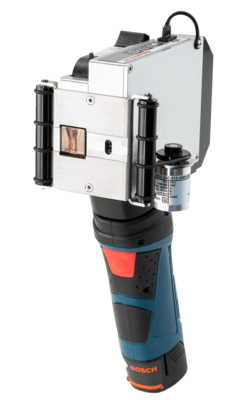 A powerful mobile handheld inkjet printer for use in multiple locations
The cartridge technology of the Markoprint X1JET HP HandHold is industry proven to ensure on demand, high-quality, high-resolution printing up to 12.5 mm high. The ergonomic design also makes the device lightweight and easy to use. The printer and its accessories such as the battery, charger, USB stick, instructions and the iDesign software are secured neatly in the durable case shown below.
Ink cartridge with SmartCard function:
The system detects the cartridge automatically
Automatic ink detection and filling level memory
Unleash the Power of Modern Touch Operating Technology and an Innovative Swipe User Interface. Say Goodbye to Complicated Print Jobs and Say Hello to Effortless Operation of X1JET and PP Class Printing Systems. With the Freedom to Position the 7" High-Resolution HMI Color Display Anywhere You Choose, Prepare to Be Awed by the Ultimate Printing Flexibility and Innovation. Upgrade to integra Vivid Today and Embrace a New Era of Printing Excellence.

View Product

---

The innovative Markoprint X1JET HP inkjet printer codes absorbent and semi-absorbent surfaces quickly, accurately and reliably. It is designed for a different range of applications in the food and beverage industry as well as the chemical and pharmaceutical industry. The controller and printer are combined in one single unit, making the system extremely compact.

View Product

---

The Alpha Compact Inkjet combines the proven and renowned Alpha series labelling system with the compact Markoprint inkjet printer.

View Product

---

Low-cost offline coding system; ideal for companies looking to automate their date marking process for the first time.

View Product

---