FasTagger II Lumber Tagging Stapler
You probably know that meeting UPC bar code requirements can be a job in itself. Manually stapling tags onto ends of lumber is not only time-consuming, but also tiring. That's why Weber developed the improved FasTagger II end-tagger. The FasTagger II is a labeling system specially built for lumber mills and forestry product companies that combines a heavy-duty stapler with a label dispensing apparatus that allows one-handed end tagging of finished lumber.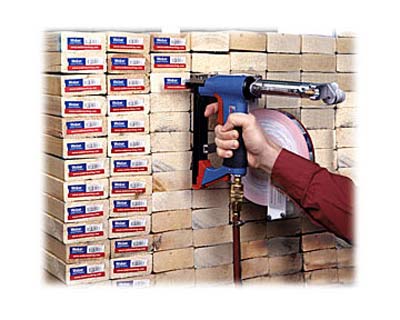 Like FasTagger II's predecessor, the original FasTagger, it's the automatic tagging tool that dispenses Weber Poly Tags and staples them securely in place — all in one step.
The FasTagger II uses compressed air to apply tags at a rate of over 100 tags per minute. Your operator simply places the tool against the end of a piece of lumber and pulls the trigger. The FasTagger II automatically staples the tag to the lumber, cuts it, and then feeds the next tag into position. A special feed mechanism increases speed while decreasing chances for tag jam up.
Because it accepts four different Poly Tag sizes, the FasTagger II is versatile enough to handle a full range of bar code and product identification needs. You can use tags of two different widths (11/16″ and 7/8″) and two different lengths (1-3/8″ and 2-3/4″). The FasTagger II is designed to let you change tag length or tag width in less than ten seconds.
All of these features come in one compact tool weighing only 6.5 lbs. including a full roll of tags. It's light enough to hold in one hand, yet durable enough to withstand the rough, outdoor environments found in lumber mills and treating plants.
Adobe Reader is required to open and view PDF files. This can be downloaded free from adobe.com.
Available Documents
The Alpha HSM (High Speed Modular) is our new modular design that is based on various components that can be combined into the right system to meet your requirements.

View Product

---

The Epson C7500 inkjet label printer is a fast, full-colour label printer whose rugged design allows minimal maintenance, low cost of ownership, and is ideal for busy, on-demand labelling environments.

The Just-in-Time Colour printing lets you print the labels you need, when you need them, quickly and economically. The C7500 uses durable inks that won't smudge, smear or fade. And the highly durable labels are up to 50% lower in cost than laser or thermal-transfer printed labels.

View Product

---

The perfect colour printer for GHS and medical device labels.

Now you can dramatically reduce colour label costs, increase operational efficiencies and quickly produce high-quality colour labels with Just in Time ColourTM printing on Epson's high-speed ColourWorks C3500 Inkjet Label Printer. This compact inkjet printer is perfect for in-house on-demand printing of small GHS chemical labels, short run food labels, medical device labelling and more.

View Product

---

Special labels by Weber Marking Systems meet the most diverse of requirements and have numerous specialized features, depending on their purpose.

View Product

---