Special labels
Special labels by Weber Marking Systems meet the most diverse of requirements and have numerous specialized features, depending on their purpose.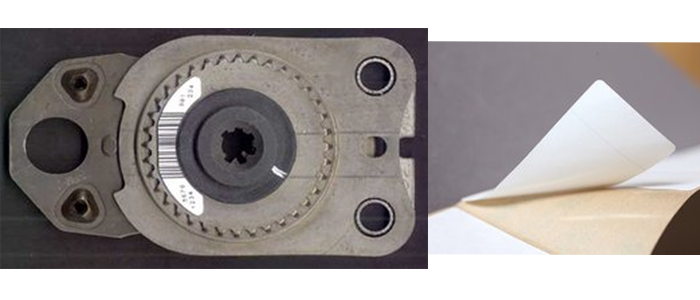 We can offer, for instance:
water-, oil- and grease-resistant labels with extremely adhesive glue, e.g. for labelling of car tyres or cutting discs.
Spunbonded fabric labels made of polyethylene continuous filament. These are resistant to water and many chemicals and solvents.
Safety labels which, when removed, break a metallised polyester foil, leaving behind legible marking on the surface.
Tags. These are robust, tear-proof and made of composite film – ideal for interior and exterior use. By dint of their paper coating, they are also perfect for customised marking at a later stage.
Labels made of cast acrylate foil. The labelling material has been developed for marking where high demands are made on durability and resistance against extremely high temperatures. The labels withstand UV light and the weather; they are also resistant to solvents and retain their shape.
Adobe Reader is required to open and view PDF files. This can be downloaded free from adobe.com.
Available Documents
To enable continuous marking in ongoing production, our Markoprint NonStopPrinting printhead holds two alternately printing cartridges. Because the other ink cartridge is printing on the same position, each ink cartridge can be changed, cleaned, or serviced without pausing the machine.

An intelligent automatism prevents both cartridges from going empty at the same time. The first cartridge will always print two consecutive print jobs, taking turns with the second cartridge, which will only print one. This sophisticated automatism avoids both cartridges from running out at the same time. This will keep the ink from drying out in both cartridges. When the cartridge with the larger print volumes is empty, a warning will show, and the other cartridge will continue printing until it is replaced. The new cartridge will print the lower quantities to allow for you to replace the "older" cartridge. A sophisticated workflow that will boost your efficiency and productivity.

View Product

---

The new Markoprint Integra Quadro/Quadro² print controller can control up to four inkjet printers or four print positions at the same time. This allows you to print on both sides of primary and secondary packaging on one or two separate production lines. There are also two separate printing methods that can be used in this process.

The Markoprint Integra Quadro/Quadro² can easily cope with limited space thanks to its slender design. Installation inside or directly at the industrial line is straightforward thanks to the different fixation options. It was designed specifically for installation in control panels and machinery.

View Product

---

Labeling systems are not always easy to integrate into preexisting production lines. The Markoprint Integra One can be easily integrated into production processes thanks to its compact dimensions of 186 x 86 x 98 mm. The printing system has a display for data entry as well as system settings modification and verification. This information can also be viewed from mobile devices if the WLAN version is selected.

Inkjet printers should be properly protected if they are subjected to harsh manufacturing circumstances. In addition, the Markoprint integra One ip has an IP 65 protection rating. As a result, it's ideal for use in the food industry.

View Product

---

PLUSMARK is the high performance wax ribbon from Weber. It offers all
the benefits of a general purpose wax ribbon with an improved print durability
and a capability to print on synthetic label materials.

View Product

---