Electric Semi-Automatic Label Dispensers
These machines can dispense up to a maximum web width of 152mm butt cut or die cut and adjustments for different size labels are made easily
and without the need for tools.
Depth – No Maximum
Max. Reel Diameter – Max. 225mm
Core Size – Min. 25mm Ideal 76mm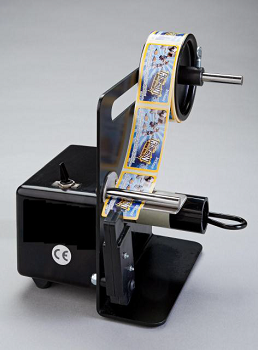 All Dispensa-Matic Label Dispensers can be supplied with an Optical Sensor or a Micro-Switch, please specify when ordering.
Dispensa-Matic U25 – Up To 63mm (2.5") Wide
Dispensa-Matic U45 – Up to 114mm (4.5") Wide
Dispensa-Matic U60 – Up to 152mm (6") Wide
The Alpha HSM (High Speed Modular) is our new modular design that is based on various components that can be combined into the right system to meet your requirements.

View Product

---

These light-weight Towa brand label applicators are the fast, easy way to manually apply pressure-sensitive labels, including RFID tags, to your products. They are available in a variety of sizes from 20mm to 100mm in width. If you need to apply labels to small batches of products or cartons, these Towa hand-held label applicators can help speed up production and accuracy. Just squeeze the lever and labels are advanced for application. Fast and easy labeling!

View Product

---

You probably know that meeting UPC bar code requirements can be a job in itself. Manually stapling tags onto ends of lumber is not only time-consuming, but also tiring. That's why Weber developed the improved FasTagger II end-tagger. The FasTagger II is a labeling system specially built for lumber mills and forestry product companies that combines a heavy-duty stapler with a label dispensing apparatus that allows one-handed end tagging of finished lumber.

View Product

---

The Series 3 is available in standard-, medium- and high-speed models. The systems apply front, back, wrap-around, top and bottom labels for the broad range of packaging markets – and for an even wider range of products and packages. These ruggedly constructed, dependable systems can be configured to handle a diverse selection of package shapes and sizes. And the Series 3 can dispense and apply pressure-sensitive labels from .5 inch high and long to a full 10 inches high and 39 inches long.

View Product

---