High-Speed Pressure-Sensitve Label Applicators
The Series 3 is available in standard-, medium- and high-speed models. The systems apply front, back, wrap-around, top and bottom labels for the broad range of packaging markets – and for an even wider range of products and packages. These ruggedly constructed, dependable systems can be configured to handle a diverse selection of package shapes and sizes. And the Series 3 can dispense and apply pressure-sensitive labels from .5 inch high and long to a full 10 inches high and 39 inches long.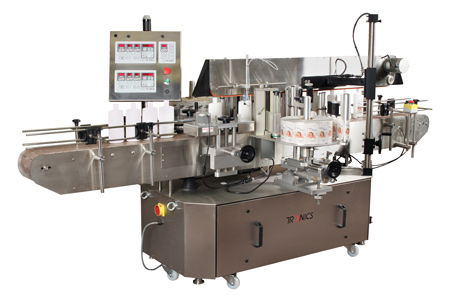 Tronics Series 3 Label Applicator
For in-line speed and precision, the Tronics Series 3 from Weber is a system that addresses a wide variety of pressure-sensitive labeling applications. Whether you use it for a wrap-around label on a sauce bottle or a front and back combination on a shampoo bottle, the Tronics can reliably handle your product line labeling needs.
Unmatched product and package labeling flexibility

Labels the front, back, wrap, top, bottom – anywhere

Applies up to 2400 inches of labels per minute

Effortless label production set-up and quick changeover
Package Flexibility
All Series 3 label applicators are equipped with a standard 4.5-inch wide (wider widths available), 10-foot long heavy-duty conveyor and labeling heads that will accommodate up to a 9-inch wide label web (kits for larger labels are optional).
Product sizes – from vials as small as 5ml to 10-gallon pails
Product shapes – round, flat-sided, oval/contoured, plus unstable products like syringes, narrow cylinders/tubes, caps and more
Product materials – plastics, paper products, metals, glass, rubber, ceramic, wood and more
Label Flexibility
The Series 3 handles small labels and large, in varying shapes, and applies them to virtually anywhere on a product or package.

Label size – from .5-inch high by .5-inch long, up to 10 inches high by 39 inches long
Label application – front; back; top; bottom; wrap-around (up to 100 per cent); booklet; crescent-shaped (for tapered rounds); one label on two, three or four panels; corner-wrap; two adjacent sides; spot; tamper evident; neck; one, two or three labels on a round product; RFID and more
Label materials – standard pressure-sensitive paper, clear, Mylar, foil and more.
Product & Label Changeovers
Series 3 labeling systems are extremely user-friendly and easy to adjust when changing products and/or labels.
Conveyor rails plus modules like labeling head(s), wrap-around belt, backing pad, overhead product hold-down and aligning chains all have tool-less adjustments, in addition to quick-reference rulers beveled into the shafts. These design functions provide reference points that ease system operation.
In addition, the Series 3 features simple electronics and touch-pad controls that provide a number of unique advantages.
On-the-fly adjustments – any label head or module can be adjusted without stopping the system; the touch-pad provides the operator with adjustment options
Job memory – up to 100 jobs can be stored in the system's memory to expedite changeovers
Durability – the system's sealed interface provides protection in chemical and other industrial environments
On-board software – the Series 3 communicates with all popular PLCs, including Allen-Bradley and Omron.
All software for any possible upgrade or option is pre-loaded; no downloading of proprietary software is required

Tronics Series 3 labeling systems from Weber also include an array of miscellaneous features, including batch counting, real-time products-per-minute display, total products labeled, additional inputs and outputs for missing/low label and for integration with PLCs on other packaging and handling equipment.
The Alpha HSM (High Speed Modular) is our new modular design that is based on various components that can be combined into the right system to meet your requirements.

View Product

---

These light-weight Towa brand label applicators are the fast, easy way to manually apply pressure-sensitive labels, including RFID tags, to your products. They are available in a variety of sizes from 20mm to 100mm in width. If you need to apply labels to small batches of products or cartons, these Towa hand-held label applicators can help speed up production and accuracy. Just squeeze the lever and labels are advanced for application. Fast and easy labeling!

View Product

---

You probably know that meeting UPC bar code requirements can be a job in itself. Manually stapling tags onto ends of lumber is not only time-consuming, but also tiring. That's why Weber developed the improved FasTagger II end-tagger. The FasTagger II is a labeling system specially built for lumber mills and forestry product companies that combines a heavy-duty stapler with a label dispensing apparatus that allows one-handed end tagging of finished lumber.

View Product

---

Weber Label applicators offer numerous labelling options: Change of format The label dispensing head is quick to replace (approx. 30 seconds), with our optional Quick-Change system. This means that our label printing dispensers are equipped for the most varied of present and future labelling requirements – a system for many applications. Labelling from all sides…

View Product

---