Hand-Held Label Applicators
These light-weight Towa brand label applicators are the fast, easy way to manually apply pressure-sensitive labels, including RFID tags, to your products. They are available in a variety of sizes from 20mm to 100mm in width. If you need to apply labels to small batches of products or cartons, these Towa hand-held label applicators can help speed up production and accuracy. Just squeeze the lever and labels are advanced for application. Fast and easy labeling!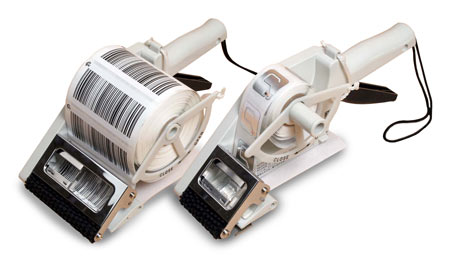 Weber's line of manual label applicators provides an easy, productive means of hand-held labeling. Available in two models and three separate sizes to address various label shapes and widths, the units can be used to apply pressure-sensitive labels from 20mm to 100mm in width.
And for pre-encoded RFID tags, the units have been specially designed to apply the tags without damaging the RFID inlays.
These handy applicators employ an exclusive label edge detector that automatically senses the leading edge of the label to ensure accurate dispensing. In addition, all three applicators can dispense any type of label or RFID tag without the use of a special liner tool, cartridge or cassette.
Unlike other manual methods of label application, our units include these unique features:
• Simple side loading minimizes label threading time
• Exclusive edge detector eliminates the need for liner slits or perforations
• Positive feed roller provides accurate dispensing
The APN Series of label applicators handles labels from 0.78″ to 3.93″ wide and is perfect for most pre-preprinted roll labels.
The APF Series of label applicators supports the same sizes as the APN Series but also includes a slidable Mech-Sensor that allows the application of round and other non-rectangular labels. Click on the Specs tab above for more information and for links to purchase a hand-held label applicator online.

The Alpha HSM (High Speed Modular) is our new modular design that is based on various components that can be combined into the right system to meet your requirements.

View Product

---

Markoprint X1Jet HP Handhold A powerful mobile handheld inkjet printer for use in multiple locations The Markoprint X1JET HP HandHold inkjet printer is a versatile, mobile, industrial, small character inkjet printer. The X1JET HP HandHold is battery operated and will print high resolution text and images without being fixed to a production line.…

View Product

---

The TC51/TC56 touch computer is sleek and beautiful—yet smart, rugged and hardworking. Designed for the new business world, users get a rugged industrial design that looks and feels like the most popular pocketable consumer-style smartphones to meet worker expectations, along with the enterprise-class features, power, security and manageability a business requires.

View Product

---

ACHIEVE CUSTOMER SERVICE EXCELLENCE AND ASSOCIATE PRODUCTIVITY

Add value to the customer experience with targeted promotions and offers based on buying preferences. Empower store associates to more efficiently manage inventory and pricing at the shelf edge. Reduce your overhead costs and improve customer loyalty with the MC Series multi-function retail mobile computer.

View Product

---