TC51/TC56 Touch Mobile Computer
The TC51/TC56 touch computer is sleek and beautiful—yet smart, rugged and hardworking. Designed for the new business world, users get a rugged industrial design that looks and feels like the most popular pocketable consumer-style smartphones to meet worker expectations, along with the enterprise-class features, power, security and manageability a business requires.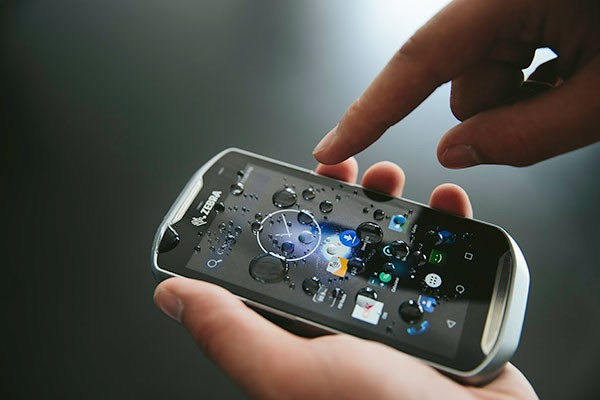 Smartphone Style and Usability with Enterprise-Class Features
This incredible solution for retail and field mobility applications features a large display for big business purposes. The solution also offers speed, accuracy and ease-of-scan to boost employee output, connecting the workforce like never before. With many unique Zebra-only features, customers get a touch computer that is truly in a class of its own. The TC51/TC56—the next evolution in enterprise touch computing.
Innovative Features of the TC51/TC56 Touch Mobile Computer
Maximum display size with advanced technology
The 5 inch (12.7 cm) display offers plenty of real estate for graphics-intensive intuitive applications. This capacitive touch panel gives workers easy, familiar and flexible multi-touch operation that works even when wet, with a gloved finger or a stylus. With best-in-class outdoor readability, the screen is easy to read, even in bright sunlight.
Business tough—built for all-day every day enterprise use
While the TC51/TC56 looks like a smartphone, workers can drop it in water or onto concrete, use it in dusty areas and more—and still expect reliable operation. The unibody design provides extra impact protection. The Corning Gorilla Glass touch panel and imager window brings maximum scratch-proofing and shatter-proofing to two of the most vulnerable device features.
The fastest, most dependable wireless connections inside and outside the four walls
With 802.11ac, the Wi-Fi enabled TC51 supports the fastest Wi-Fi connections with the most robust roaming support. The Wi-Fi and 4G LTE cellular-enabled TC56 keeps workers connected no matter where they are—in the facility or out in the field.
Powerfully efficient architecture with PowerPrecision+ battery for best-in-class power and manageability
Workers depend on their mobile devices nearly every minute of the day. The TC51 and TC56 are designed with a 64 bit hexa core processor that manages performance for the task at hand better than higher speed quad core devices. The user-replaceable PowerPrecision+ battery delivers up to an impressive 14 hours of power, ensuring that workers have plenty of power for the longest shift. A wealth of easily accessible battery metrics make it easier than ever to identify, remove and replace aging batteries. Also, with Warm Swap mode, users can change the battery without losing connectivity—no reboot is required.
ZEBRA ZT510 – NEXT-GENERATION PRINTING THAT IS BUDGET-FRIENDLY

Designed to strike the ideal balance between performance and value, the Zebra ZT510 includes the core features you need in an industrial printer at a cost-effective price point.

View Product

---

EASYMARK is the standard Weber wax ribbon which delivers consistent print
quality on any kind of paper label materials. It prints high density legible
barcodes and traceability data for short life labeling needs.

View Product

---

The new Markoprint Integra Quadro/Quadro² print controller can control up to four inkjet printers or four print positions at the same time. This allows you to print on both sides of primary and secondary packaging on one or two separate production lines. There are also two separate printing methods that can be used in this process.

The Markoprint Integra Quadro/Quadro² can easily cope with limited space thanks to its slender design. Installation inside or directly at the industrial line is straightforward thanks to the different fixation options. It was designed specifically for installation in control panels and machinery.

View Product

---

Inkjet nozzles can clog and dry up in a dusty printing environment, which is typical in wood-processing enterprises and other sectors. This results in poorly printed images. Our Markoprint Shutter Printhead HP prevents dust from entering the ink cartridge or gathering on the nozzles. During a production halt, the printhead automatically retracts the cartridge and shuts the open nozzle plate. After being paused for even several days, it is instantly ready to print again.

View Product

---