Dressings, Oils and Sauce Labels
When it comes to hot sauces, BBQ sauces, dressings and all types of cooking oils, you need to make your customer get hungry. And your label has to get your flavor message across to the customer.  A good label design will entice them to try your brand. Bright, colorful labels can be used to create families of products, too. Check out some of the eye-catching labels below.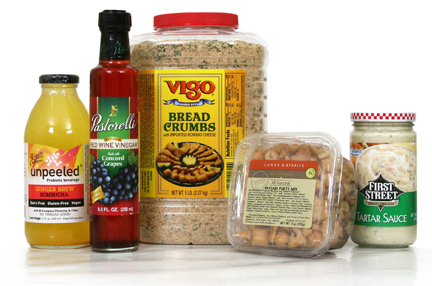 A Great Looking Label Sets You Out From The Crowd.
Dressing, Oil & Sauce Label Tips
Materials:
Use clear label material or foils to create dimensional effects with your label.

Be sure to use label materials that will stand up to the environment if they are exposed to oils or refrigerated conditions.


Artwork:
Use a unique label material with a texture to add style and touch to your label.

Keep your design simple but eye-catching so your brand becomes well known by sight. Custom die shapes allow you to use interesting shapes for your label.

Add a QR code so your customers can scan it for more info about your company, free offers, recipes and more.




Weber can also help you apply your labels with a label applicator sized to fit your needs, from small boutique dressing companies to large automated production labellers.
Pressure-sensitive adhesive works not only due to its initial tack, but also its slight absorption into the surface of the label substrate. Because the specific characteristics of different substrates can prevent the absorption of adhesive and therefore weaken its adhesion, it is important to consider the substrate material and texture, its shape and its temperature at application.

View Product

---

Weber can provide you with a selection of label facestocks to solve virtually any labeling application. Each facestock features certain characteristics for superior performance in specific work environments.

View Product

---

Your automotive replacement parts packaging needs a colorful label to attract a buyers attention. Set your brand apart from the competition with unique, well-designed labels that showcase your products. You can use a wide range of materials to add value and style to your label and Weber can help you decide on the best fit of facestock and adhesive to guarantee that your label looks good and performs correctly.

View Product

---

When choosing the right label for your detergent or liquid soap product, it's important to get a label material that will stand up to exposure to the product. The label is going to get wet and abused. Weber can help you decide on the right materials that will look great and yet be durable enough to take harsh treatment of repeated soakings and squeezing.

View Product

---