Chemical & GHS Labels
Weber has the special adhesive-coated, high performance film labels to meet your chemical drum and pail labeling needs. Plus we have labels that meet GHS and BS-5609 compliance standards and drum reconditioning procedures. When you are printing label in-house, make sure you use the right chemical-resistant variable-imprint label materials that are compatible with direct-thermal, thermal-transfer and inkjet print technologies. We can help you make the right label choices as well as guide you in choosing the best printer for your application.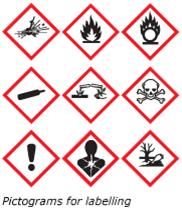 We can help you meet your chemical labelling requirements today.
The Globally Harmonized System of Classification and Labeling of Chemicals (GHS) is an internationally agreed-upon system, created by the United Nations. It is designed to replace the various classification and labeling standards used in different countries by using consistent criteria for classification and labeling on a global level.
Before placing chemicals on the market, the industry must establish the potential risks to human health and the environment of such substances and mixtures, classifying them in line with the identified hazards. The hazardous chemicals also have to be labelled according to a standardised system so that workers and consumers know about their effects before they handle them.
Visit hsa.ie for more information on CLP Regulation
---
Chemical Label Tips

Materials:
Be sure your labels are UV and chemical resistant; the label inks and coatings should resist fading or blurring when exposed to direct sun or chemicals inside the container.

Special film labels resist chemical spills and last longer than standard film or paper labels.

Artwork:
GHS labels require special hazard symbols that have to be printed in red ink to comply with new GHS guidelines.

Contact Weber for more information and help meeting the requirements of the new GHS chemical label mandate.
Adobe Reader is required to open and view PDF files. This can be downloaded free from adobe.com.
Available Documents
Two in-line arranged thermal transfer print units for simultaneous two-color printing in one label.

With ribbon saver at one print unit.

View Product

---

The Epson C7500 inkjet label printer is a fast, full-colour label printer whose rugged design allows minimal maintenance, low cost of ownership, and is ideal for busy, on-demand labelling environments.

The Just-in-Time Colour printing lets you print the labels you need, when you need them, quickly and economically. The C7500 uses durable inks that won't smudge, smear or fade. And the highly durable labels are up to 50% lower in cost than laser or thermal-transfer printed labels.

View Product

---

Epson's ColourWorks C831 breakthrough industrial-strength inkjet label printer is ideal for GHS large format drum and chemical labels. This wide-web printer uses pin-feed labels for extended accuracy.

View Product

---

The perfect colour printer for GHS and medical device labels.

Now you can dramatically reduce colour label costs, increase operational efficiencies and quickly produce high-quality colour labels with Just in Time ColourTM printing on Epson's high-speed ColourWorks C3500 Inkjet Label Printer. This compact inkjet printer is perfect for in-house on-demand printing of small GHS chemical labels, short run food labels, medical device labelling and more.

View Product

---