Axicon 7015 Barcode Verifier
The Axicon 7015 combines CCD based hardware and state of the art application software, conforming to the latest ISO/ANSI print quality standards (ANSI x3.182 and ISO/IEC15416-1). Our equipment has been independently tested and conforms to ISO/IEC15426-1. The Axicon 7015 is designed for all barcodes where an 8, 10 or 20mil aperture is mandatory (such as GS1-128 and ITF-14), up to 195mm width including quiet zones. The simple to use design reduces user error and eliminates product damage whilst providing the highest level of accuracy achievable for verification.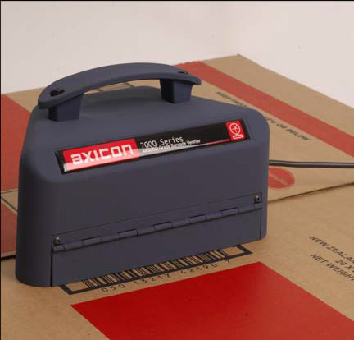 Traded Pack level (Warehouse) barcodes whether being verified on cartons, labels, corrugated board, shrink wrap film etc plus all pallet labels and linear barcodes of a similar size.
Simply install the software on your computer, plug in the verifier and you can be confident that your barcodes are being checked to the highest standards. The standard software includes everything you could ever need from a barcode verifier. Traceability features include automatic saving of files, reports in a variety of formats, data content checks against a wide range of application standards as well as the product look-up function – helping you to ensure that your barcodes are fit for purpose.
The Axicon Verifier, when used in conjunction with the accurately produced calibration sheet, forms an integral part of your ISO 9000 quality control procedures.
Markoprint X1Jet HP Handhold A powerful mobile handheld inkjet printer for use in multiple locations The Markoprint X1JET HP HandHold inkjet printer is a versatile, mobile, industrial, small character inkjet printer. The X1JET HP HandHold is battery operated and will print high resolution text and images without being fixed to a production line.…

View Product

---

The Alpha Compact Inkjet combines the proven and renowned Alpha series labelling system with the compact Markoprint inkjet printer.

View Product

---

Low-cost offline coding system; ideal for companies looking to automate their date marking process for the first time.

View Product

---

Unstoppable Performance for 1D/2D Direct Part Marks (DPM) and Bar Codes

As a member of the Zebra 3600 Ultra-Rugged Series of scanners, the practically indestructible 1D/2D DS3608-DP corded and DS3678-DP cordless scanner brings the dependable lightning-fast capture of virtually every direct part mark to aerospace, automotive and other manufacturing plants where end-to-end traceability of every product component is required.

View Product

---