Axicon 6515 Barcode Verifier
The Axicon 6515 combines CCD based hardware and state of the art application software, conforming to the latest ISO/ANSI print quality standards (ANSI x3.182 and ISO/IEC15416-1). Our equipment has been independently tested and conforms to ISO/IEC15426-1. The Axicon 6515 is designed for all barcodes where a 5, 6, 10 or 20mil aperture is mandatory (such as EAN8, EAN13, UPC-A, UPC-E, GS1-128 and ITF-14), up to 125mm width including quiet zones. The simple to use design reduces user error and eliminates product damage whilst  the highest level of accuracy achievable for verification.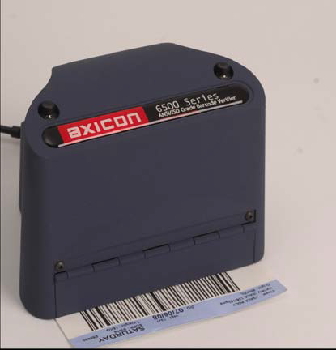 For the user who needs to verify barcodes on both consumer unit (point of sale) products and also the smaller sized traded pack barcodes – typically those printed Thermal or thermal transfer to labels).
Simply install the software on your computer, plug in the verifier and you can be confident that your barcodes are being checked to the highest standards. The standard software includes everything you could ever need from a barcode verifier. Traceability features include automatic saving of files, reports in a variety of formats, data content checks against a wide range of application standards as well as the product look-up function – helping you to ensure that your barcodes are fit for purpose.
The Axicon Verifier, when used in conjunction with the accurately produced calibration sheet, forms an integral part of your ISO 9000 quality control procedures. Free software updates are downloadable from our website www.axicon.com, ensuring that your verifier will remain at the leading edge.
Markoprint X1Jet HP Handhold A powerful mobile handheld inkjet printer for use in multiple locations The Markoprint X1JET HP HandHold inkjet printer is a versatile, mobile, industrial, small character inkjet printer. The X1JET HP HandHold is battery operated and will print high resolution text and images without being fixed to a production line.…

View Product

---

The TC51/TC56 touch computer is sleek and beautiful—yet smart, rugged and hardworking. Designed for the new business world, users get a rugged industrial design that looks and feels like the most popular pocketable consumer-style smartphones to meet worker expectations, along with the enterprise-class features, power, security and manageability a business requires.

View Product

---

ACHIEVE CUSTOMER SERVICE EXCELLENCE AND ASSOCIATE PRODUCTIVITY

Add value to the customer experience with targeted promotions and offers based on buying preferences. Empower store associates to more efficiently manage inventory and pricing at the shelf edge. Reduce your overhead costs and improve customer loyalty with the MC Series multi-function retail mobile computer.

View Product

---

The Alpha Compact Inkjet combines the proven and renowned Alpha series labelling system with the compact Markoprint inkjet printer.

View Product

---