The FDA's ruling requiring UDI's (Unique Device Identifiers) to be assigned to medical devices and their related packaging will undoubtedly bring many benefits. Patient safety will be greatly enhanced through increased protection from counterfeit devices and the ability to identify a device, even when it has been separated from its packaging will make it much easier to link the product to its original manufacturer in the event of problems.
For some manufacturers the ruling could have implications across a number of different aspects of their manufacturing processes, from the materials used to produce a label right through to the verification of the information printed to it. With decades of experience within the medical device and healthcare industries, Weber is able to provide the expertise, guidance and technologies needed to ensure a smooth transition to conformity.
 The term UDI stands for Unique Device Identification. In practice this is a unique numeric or alphanumeric code which includes a device identifier, specific to a device model, and a production identifier. Also included is the current production information for that specific device, such as the lot or batch number, the serial number and / or expiration date. The UDI must appear on every device using a label or through direct marking methods such as ink jet marking or lasers. The information must also be both human readable, in the form of plain text and machine readable through bar code, 2D Matrix code and RFID technology.
(UDI label data printed using Weber technology)
There are a number of compliance dates identified within the FDA's final ruling, the latest of which is that by the 24th September 2015 UDI's must be present on labels and packaging of implantable, life supporting or life sustaining devices, multi-use devices that are life supporting or life sustaining and on stand-alone software that is life supporting or life sustaining. Further regulations will come into force periodically until September 2020.
Keeping abreast of these regulations and ensuring compliance at the different stages of implementation requires an intimate knowledge of the industry, the regulatory requirements and the materials and technologies needed to support the production processes. Many suppliers to the industry however may be small and medium size enterprises (SMEs) and for organisations such as this UDI compliance could be costly not only in terms of labelling system upgrades, but also in the management time needed to understand and administer the changes needed to comply with ever changing regulatory requirements.
Manufacturers must include at least one method of allowing Automatic Identification / Data Capture (AIDC). This can be in the form of a conventional bar code, however where space may be an issue or where greater amounts of data need to be made available, then the 2D Matrix or QR codes can be used. It is also possible to use RFID labelling but the additional costs incurred in using this type of label may exclude this as an option in certain cases.
End users may have a preferred technology that they wish to use to acquire the data from the device, its label or packaging and this will have a direct influence on the AIDC method to be employed at the time of manufacture. SME's who supply to a number of customers may need to use different methods as some customers will require bar codes and others may prefer 2D Matrix codes.
With several decades supporting manufacturers and suppliers to the medical and healthcare sectors Weber has built

up an intimate understanding of the industry's requirements and is able to offer expert guidance on label materials, label design & production and the selection of the most appropriate coding method. Combining this expertise with the comprehensive array of printing and application technologies available form Weber means that solutions for each stage of the manufacturing process, from the device production to pallet labeling, can be configured to meet the individual requirements of each manufacturer
(Weber offers expert advice on label materials, design & production)
Healthcare labels have to communicate important information to both doctors and patients.  It is essential therefore that the labels are capable of withstanding the most arduous of environmental conditions. Weber's extensive knowledge of label materials helps manufacturers select the most appropriate substrate, adhesives and topcoats to ensure compatibility with the ETO, Gamma and E-Beam sterilization processes used within the medical sector. Weber has also developed creative solutions to the many problems faced by healthcare companies, including custom die cuts, complex build and more. On-press, variable code-dating and messaging using laser etch or UV inkjet allows additional information to be added on the fly, with sequential back-of-liner numbering aiding inventory control. On-press and post-press video inspection is used to maintain the highest levels of quality assurance and Weber employs ISO 9001-registered label manufacturing processes that can assist cGMP compliance to 21 CFR Subpart G.
Weber's extensive range of printers, applicators and print & apply systems means that there is always an optimum solution to every application. Weber's thermal inkjet systems: iJet, XJet and Cube represent just three state-of-the-art marking systems that meet the medical device industry's challenging demands on printing, speed and reliability. These coders are easily integrated into production and packaging facilities. Although compact, they are able to print all of the requisite codes and information needed for UDI compliance.
Weber also offer labeling systems for indirect product marking which can be effortlessly integrated and used for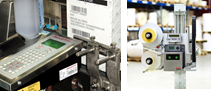 downstream packaging operations. In addition to standard product and pallet label applicators, the range also includes RFID solutions, providing manufacturers with the widest choice of labeling solutions to meet UDI requirements, irrespective of the device and its packaging.
(Weber offers a comprehensive range of Inkjet and Print & Apply systems to the medical device sector)
Weber Packaging Solutions offer a complete range of hardware, software, materials and expertise to meet the exacting printing and labelling standards required by the medical and healthcare sectors. Many blue chip companies are currently using Weber technology, with each solution precision engineered to address a specific application, yet flexible enough to cater for future requirements that may arise in relation to UDI compliance.