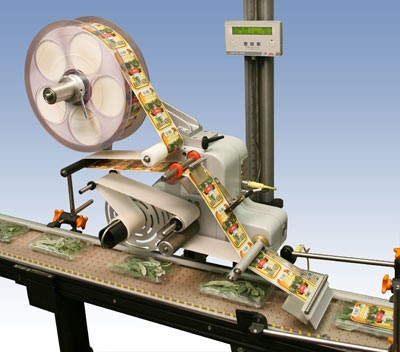 Weber's Alpha Compact 
Takes the Pressure Out of Labelling
Weber's Alpha Compact label applicator is a cost-effective solution to fast, reliable pressure-sensitive labelling. This system features a small footprint, yet employs a highly-accurate wipe-on method of application to affix pressure sensitive labels in a production environment.
The Alpha Compact label dispenser not only boasts a new design with increased performance and higher application rates (up to 600 labels per minute) but is even simpler to operate than its field proven predecessors. The Alpha Compact system quickly and accurately applies pre-printed labels onto products and packaging in conjunction with various applicator units. The new integrated controller further reduces the space required for this already compact unit.
The Alpha Compact unit automatically unwinds the supply roll and peels the labels from their liner, then wipes them on to products, cartons and other packages as they travel past the system on a conveyor line. This system applies labels up to 120mm (4.7") wide and 300mm (11.8") long at speeds up to 50.0 Metres per Minute (164 feet per minute)  to a tolerance of ±0.75mm( 0.03").
This versatile unit can be oriented to apply labels to the side, top or bottom of packages. To accommodate various production environments, the Alpha Compact can also be specified for right- or left-hand applications.
 (Weber's Alpha Compact – Cost effective solution to fast, reliable pressure sensitive labelling)
Choice of Interface
Depending upon the complexities and demands of the particular labelling operation, the Alpha Compact is available with three separate interfaces:
Panel HMI includes an external operator's panel that provides system control through dual potentiometers and four push-buttons.
Display HMI replaces the operator's panel with an LCD display that provides full access to all adjustment parameters.
USB utilizes a USB connection that permits the unit to be configured from a PC.
Each version of the Alpha Compact features rugged die-cast aluminium construction, single-key calibration, and automatic recognition of missing labels, in-production speed adjustment and more.
For more information please contact:-
Mr Patrick Hughes
Weber Packaging Solutions
Macmerry Industrial Estate
Tranent
East Lothian
EH33 1HD
Telephone – +44(0)1875 611 111
E-Mail – sales@weber.co.uk
Web – www.weber.co.uk