Zebra HC100 Wristband Printer
The HC100 wristband printer has been designed with the user in mind. Combining the small-footprint HC100 thermal printer with easy-to-load cartridges, it offers an ideal solution for wristband printing. The wide ranges of available wristbands are suitable for healthcare, hospitality and leisure applications.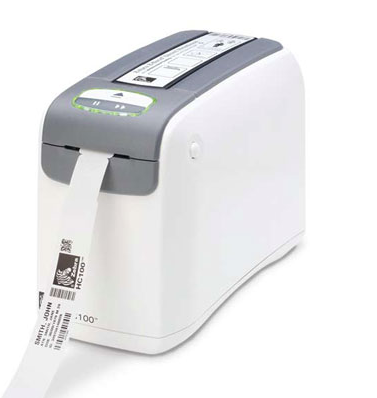 Its easy-to-load features require minimal, if any, user action, whilst its smart technology senses the wristband type and auto-calibrates the settings for optimised print quality and reduced waste. There is minimal training required to use the HC100 printer or to load or switch the cartridge – it's a quick and simple task.
The wide range of available colours, together with waterproof adhesives, combine fun and function, ideal for theme and amusement venues. The faster print speeds reduce queues, while high-quality print images are well suited for access-control applications.
The HC100 printer is resistant to most hospital disinfectants and prints all industry-standard one-dimensional and two-dimensional barcode symbologies, allowing administrators to process patient admissions quickly and safely without having to change the media in the printer. A wide variety of long-lasting healthcare wristbands is available with Zebra's patent-pending antimicrobial material, including infant sizes, ultra-soft, comfort and QuickClip versions.
Adobe Reader is required to open and view PDF files. This can be downloaded free from adobe.com.
Available Documents
HC 100 Data Sheet
ZEBRA ZT510 – NEXT-GENERATION PRINTING THAT IS BUDGET-FRIENDLY

Designed to strike the ideal balance between performance and value, the Zebra ZT510 includes the core features you need in an industrial printer at a cost-effective price point.

View Product

---

ZT400 printers feature USB, Serial, Ethernet and Bluetooth® connectivity along with expanded RFID capabilities. Plus, with Zebra's Link-OS® environment, an innovative operating system, your customer can easily integrate, manage and maintain these printers from anywhere in the world.

View Product

---

ZEBRA ZT600 SERIES – INDUSTRIAL BRAWN FOR EVERY CHALLENGE

Advancing the legacy of the industry-leading Xi Series, the Zebra ZT600 Series printers combine rugged durability and exceptional performance on a user-friendly, future-ready platform.

To keep your critical operations running smoothly, you need high-performance industrial printing systems that can stand the test of time, both physically and technologically. Zebra's ZT610 and ZT620 advance the legacy of their industry leading Xi Series predecessors, offering next-generation operational visibility, control and adaptability to meet your evolving needs—all with the rugged durability and 24/7 reliability you expect from Zebra.

View Product

---

Markoprint X1Jet HP Handhold A powerful mobile handheld inkjet printer for use in multiple locations The Markoprint X1JET HP HandHold inkjet printer is a versatile, mobile, industrial, small character inkjet printer. The X1JET HP HandHold is battery operated and will print high resolution text and images without being fixed to a production line.…

View Product

---