XC Label Printer
The layout of the labels is created either using label software or through direct programming via a text editor on the PC. Label formats, fonts and graphic data, serial data and database contents are saved or imported on the CF memory card, USB flash drive or the internal IFFS printer memory. Only variable data is sent to the printer via keyboard or host computer before being printed out. Data from a barcode scanner or a balance can also be received by the printer.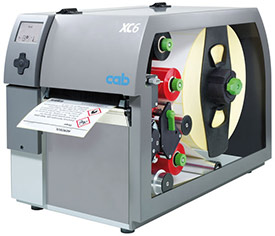 Big graphic display
White backlight for optimum readability.
Ribbon retainer
Three-part tightening axles enable quick and easy ribbon exchange.
Straightforward adjustment
The printheads are pressed down with sliding toggles. One is mounted to the left label margin, the other is pushed to the right label margin.
Peripheral connection
All additional modules such as the stacker and cutter are easily adjustable. All peripheral devices can be connected to the › Stable metal housing made of die-cast aluminum.
Adobe Reader is required to open and view PDF files. This can be downloaded free from adobe.com.
Available Documents
XC Label Printer
ZEBRA ZT510 – NEXT-GENERATION PRINTING THAT IS BUDGET-FRIENDLY

Designed to strike the ideal balance between performance and value, the Zebra ZT510 includes the core features you need in an industrial printer at a cost-effective price point.

View Product

---

ZT400 printers feature USB, Serial, Ethernet and Bluetooth® connectivity along with expanded RFID capabilities. Plus, with Zebra's Link-OS® environment, an innovative operating system, your customer can easily integrate, manage and maintain these printers from anywhere in the world.

View Product

---

ZEBRA ZT600 SERIES – INDUSTRIAL BRAWN FOR EVERY CHALLENGE

Advancing the legacy of the industry-leading Xi Series, the Zebra ZT600 Series printers combine rugged durability and exceptional performance on a user-friendly, future-ready platform.

To keep your critical operations running smoothly, you need high-performance industrial printing systems that can stand the test of time, both physically and technologically. Zebra's ZT610 and ZT620 advance the legacy of their industry leading Xi Series predecessors, offering next-generation operational visibility, control and adaptability to meet your evolving needs—all with the rugged durability and 24/7 reliability you expect from Zebra.

View Product

---

The Markoprint X1JET HP HandHold inkjet printer is a versatile, mobile, industrial, small character inkjet printer. The X1JET HP HandHold is battery operated and will print high resolution text and images without being fixed to a production line. The long-life battery allows you to print over an extended period of time. Configuring the device and uploading of print images is a simple task using a USB stick and the Markoprint iDesign software.

View Product

---