Weber 121 Wrap-Around Label Applicator
Weber's versatile 121 provides a simple, cost-effective solution to low-volume wrap-around labelling that is as accurate and flexible as similar labelling systems used in larger-scale operations.  This labelling system features the fast and accurate positioning of full, overlap and partial-wraps of pressure-sensitive labels on cylindrical containers.
Products up to 7″ in diameter and up to 12″ high easily can be accommodated using the system's adjustable guide rails. It can handle labels up to 6 inches tall and 12 inches long and apply them at rates up to 45 products per minute to a variety of sized products. During application, labels are peeled away from the liner and securely attached to products using the wipe-on label applicator and a wrap station.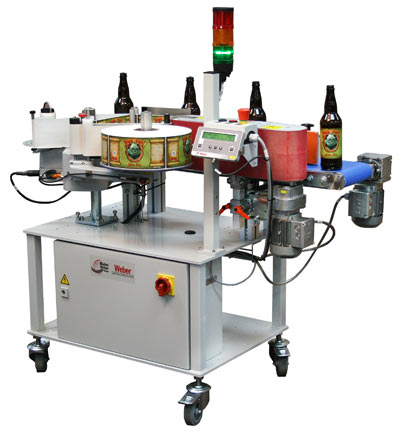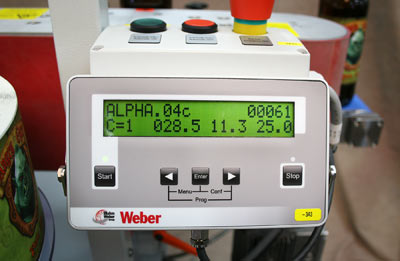 The brand-new Weber 121 system features a cost-efficient Alpha Compact labelling system mated with a wrap conveyor for a compact, easy-to-use solution for labelling bottles and other round straight-walled products. This heavy-duty wrap-labeller can be inserted into your production line to give you consistent end-to-end labelling and better control over your production.
Applies label up to 6″ high x 12″ long
Stand-alone or add to a production line
Placement accuracy of 0.03″
If you are looking for a reliable, economical bottle-wrap labelling system that is easy to set up and simple to maintain then check out the Weber 121. Industries that use the Model 121:
Craft beer labelling
Medical and pharmaceutical container labelling
Food/Sauce bottle labelling
Cylindrical beverage & juice bottle labelling
Products are delivered to the Weber 121's built-in Alpha Compact applicator head via a 7.75″-wide, 45″-long belt conveyor, which permits product transfers at both the entry and discharge ends. The unit is capable of a superb placement accuracy of 0.03″. The Weber 121 can be integrated into existing production processes or operate as a manually fed, stand-alone solution. The unit also boasts robust steel construction that makes it ideal for lower-volume, intermittent labelling projects or for multiple-shift operations.
The Markoprint Integra PP108 is the first inkjet printer with SEIKO printing technology and a circulating ink system. It features a POZIFLOW circulating ink system which prevents the accumulation of air in the nozzles and ensures a permanent, clean print image without missing print due to blocked nozzles. The system's ink tank can be installed above, below, or at the same height as the print head without any problems. The new SEIKO printhead has a print height of 108 mm and achieves a remarkable speed of up to 150 meters per minute with a high resolution of 360 dpi.

Suited to Dual Colour Printing Applications such as Hazard Labelling, Dual Colour overprinting and Direct Printing Applications to corrugate, and web printing applications, the PP108 is the latest high end, economical Inkjet System using the latest Drop on Demand Printing Technology.

View Product

---

DURAPRINT is a very versatile, multi-purpose wax-resin ribbon.
It provides a higher level of resistances compared to standard wax ribbons and
prints small characters and barcodes with a high level of quality.

View Product

---

The Geset 117 labelling system is used to label square products on the top and bottom side automatically. Depending on the type and dimension of the product, different label sizes are used. The products are fed manually or by a conveying system provided by the customer at an infeed passage on the labelling system. Care should be taken on accurate alignment of the products. It is essential that the products are forwarded separately to the applicator with a gap between each other.

When the light barrier is reached, an application trigger is tripped. Both label applicators apply then in Wipe On procedure a label onto the product. The label on top side is pushed on the product by a brush or roller. The label on bottom side is pushed on the product by the self-weight of the product. After labelling the products move on and can be removed from conveyor by the customer.

View Product

---

ECOMARK is the most competitive wax ribbon from Weber.
It makes no compromise between price and quality in order to match
standard wax labeling applications.

View Product

---