The Epson colour label printer range
Recent advances in on-demand colour printing technology, a field led by Epson, have made traditional two-stage colour label printing a thing of the past. Our on-demand colour printers give you complete control of the label production, allowing you to print the customised colour labels exactly when you need them and in the quantities that you will actually use.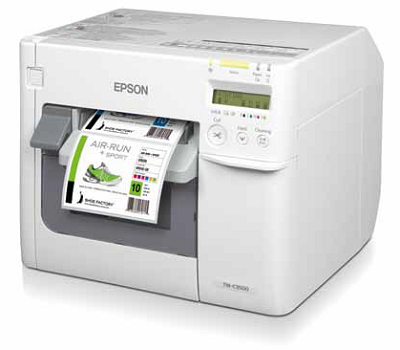 Traditionally, thermal printers were used to overprint black onto pre-printed labels. But this approach can be slow, disruptive, wasteful and inconvenient. Epson's range of on-demand colour inkjet printers eliminates these problems easily. With an in-house ability to print customised colour labels, tickets and tags as and when you want, you will no longer have to worry about inventory of pre-printed labels, production downtime, label waste, lost orders or late shipments.
Visible benefits for a wide range of applications From manufacturing and retail to pharmacy, healthcare and ticketing, there's a product in our colour label printer range that can make a real difference by giving you the flexibility to print the labels you need, when you need them. The latest additions to the range, the Epson TM-C3500 and GP-C831 are ideal for companies who want to print labels that comply with the latest GHS (Globally Harmonised System) standards for chemical labeling.
The Epson colour label printer range are ideal for manufacturers with a wide product range, improving inventory management and product identification and enhancing customer service.
Improved inventory management
Clear operating procedures
Highlight important information
Enhanced labels and branding
Easy GHS compliance
ZEBRA ZT510 – NEXT-GENERATION PRINTING THAT IS BUDGET-FRIENDLY

Designed to strike the ideal balance between performance and value, the Zebra ZT510 includes the core features you need in an industrial printer at a cost-effective price point.

View Product

---

ZT400 printers feature USB, Serial, Ethernet and Bluetooth® connectivity along with expanded RFID capabilities. Plus, with Zebra's Link-OS® environment, an innovative operating system, your customer can easily integrate, manage and maintain these printers from anywhere in the world.

View Product

---

ZEBRA ZT600 SERIES – INDUSTRIAL BRAWN FOR EVERY CHALLENGE

Advancing the legacy of the industry-leading Xi Series, the Zebra ZT600 Series printers combine rugged durability and exceptional performance on a user-friendly, future-ready platform.

To keep your critical operations running smoothly, you need high-performance industrial printing systems that can stand the test of time, both physically and technologically. Zebra's ZT610 and ZT620 advance the legacy of their industry leading Xi Series predecessors, offering next-generation operational visibility, control and adaptability to meet your evolving needs—all with the rugged durability and 24/7 reliability you expect from Zebra.

View Product

---

Markoprint X1Jet HP Handhold A powerful mobile handheld inkjet printer for use in multiple locations The Markoprint X1JET HP HandHold inkjet printer is a versatile, mobile, industrial, small character inkjet printer. The X1JET HP HandHold is battery operated and will print high resolution text and images without being fixed to a production line.…

View Product

---