Pressure-Sensitive Bakery Labels
Great bakery labels need to visually enhance the product that they decorate as well as communicate required information like nutrition facts, ingredients and expiration dates. A good label design will include colorful images and use materials like clear film or metallic foils to showcase the product and draw customers near.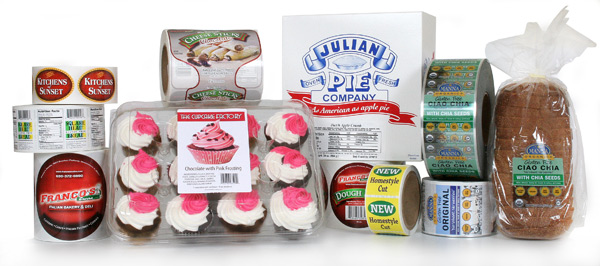 Build your brand and sell more baked goods with custom labels.
Weber can help you get noticed with custom labels that get your bakery goods noticed. We have a wide range of materials and die cuts for a unique look, plus we can even help you add functionality to your label by helping it act as a closure for your package.
Bakery Label Tips

Materials:
By using a clear label material or metallic foil, you add value to your product with an enhanced look.
Be sure to use label materials that will stand up to damp and/or refrigerated conditions.
Always test your label adhesives to make sure they will stick securely to your containers, especially plastic clamshells and other non-paper materials.
Artwork:
Use unique designs and colors for your brand to create a family of products. This makes it easier for consumer to return to your product by sight.
Most bakery labels leave open white areas for printing variable information like date codes, bar codes, ingredients or nutrition facts using a thermal label printer. This allows you to use the same label design with a wide variety of products, saving time and money.
Keep your design simple but eye-catching. Create patterns on your label or subtle designs using dull or gloss varnishes.
Custom die shapes allow you to use interesting shapes for your label.
Add a QR code so your customers can interact with your company, get coupons, recipes and more.
---
Organic Bread LabelsWhen you are a bakery known for natural organic breads, you want the world to see the fruit of your labor. Using a clear film label lets the product show through while still getting your message across to the customer.

And a film label almost disappears on the clear plastic bag used to hold the bread. A very clean and readable solution.

These labels were printed on our high-resolution HP digital presses.

Label Size: 5.25″ wide x 3.875″ high

Facestock: Clear Film

Print method: Digital

Top Coat: None

Baked Goods Labels>A custom die shape makes a label not only look unique, but it adds to the functionality of the label by making it fit the packaging better. This label is an example of a label that is used as a closure for a clamshell container.

The good-looking product image is on top of the clamshell while the bar code, ingredients and nutrition facts info wraps around to the bottom, making it easier for the cashier to scan the product without turning it upside down. Upside down is bad for baked goods!

Label Size: 5.5″ wide x 10.0″ high

Facestock: Glossy paper

Print method: Flexo press

Top Coat: None
Adobe Reader is required to open and view PDF files. This can be downloaded free from adobe.com.
Available Documents
Pressure-sensitive adhesive works not only due to its initial tack, but also its slight absorption into the surface of the label substrate. Because the specific characteristics of different substrates can prevent the absorption of adhesive and therefore weaken its adhesion, it is important to consider the substrate material and texture, its shape and its temperature at application.

View Product

---

Weber can provide you with a selection of label facestocks to solve virtually any labeling application. Each facestock features certain characteristics for superior performance in specific work environments.

View Product

---

Your automotive replacement parts packaging needs a colorful label to attract a buyers attention. Set your brand apart from the competition with unique, well-designed labels that showcase your products. You can use a wide range of materials to add value and style to your label and Weber can help you decide on the best fit of facestock and adhesive to guarantee that your label looks good and performs correctly.

View Product

---

When choosing the right label for your detergent or liquid soap product, it's important to get a label material that will stand up to exposure to the product. The label is going to get wet and abused. Weber can help you decide on the right materials that will look great and yet be durable enough to take harsh treatment of repeated soakings and squeezing.

View Product

---