OEM Auto Parts Labels
Product ID labels on your OEM auto parts have to last the life of the product. And more than likely, that will be a long, tough life cycle. Weber can help you pick the right materials to ensure that your labels continue to work through all kinds of weather and harsh conditions.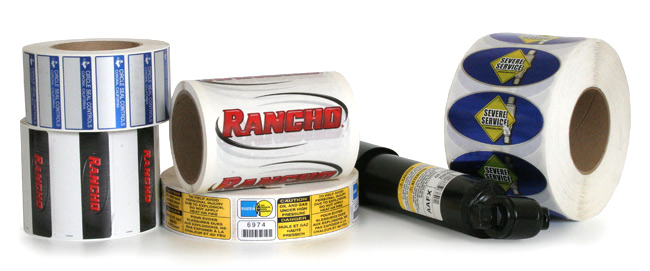 When you need tough, long-lasting labels.
OEM labels need to retain readability for technical and installation information as well as keeping the products brand image in front of the consumer.
OEM Automotive Label Tips
Materials:
Durable, UL-listed vinyl and polyester label facesheet and adhesive combinations make your label work for demanding, long-term applications.
If your package contains petroleum distillate or other liquids, chose a printing process and lamination to prevent label damage.
Metallic label materials can add value to your logo and help get your product noticed.
Artwork:
Labels need to be eye-catching to compete on the shelf in automotive after-market stores.
Use bold fonts to make it easier to read the fine print on parts labels.
Add bar codes, QR codes and other important information to make it easier for the consumer to identify the part after long periods of service.
---
| | |
| --- | --- |
| Shock Absorber LabelImportant product identification and safety information is required on many automotive parts including shock absorbers and struts. This label uses large type that is protected from the elements by clear lamination.Label Size: 1.5″ wide x 4.75″ highFacestock: Gloss WhitePrint method: FlexoTop Coat: Clear lamination |   |
| Rancho Products LabelThis is a brand identification label used on Rancho Suspension parts. Printed on a clear material, this logo shows up bright and shiny on truck shock absorber and strut parts.This type of branding can be important as many aftermarket truck parts can be seen by other vehicles following behind the vehicle and it becomes a moving billboard for your product!Label Size: 5.5″ wide x 2.375″ highFacestock: Clear GlossPrint method: FlexoTop Coat: None | |
Adobe Reader is required to open and view PDF files. This can be downloaded free from adobe.com.
Available Documents
Markoprint X1Jet HP Handhold A powerful mobile handheld inkjet printer for use in multiple locations The Markoprint X1JET HP HandHold inkjet printer is a versatile, mobile, industrial, small character inkjet printer. The X1JET HP HandHold is battery operated and will print high resolution text and images without being fixed to a production line.…

View Product

---

The TC51/TC56 touch computer is sleek and beautiful—yet smart, rugged and hardworking. Designed for the new business world, users get a rugged industrial design that looks and feels like the most popular pocketable consumer-style smartphones to meet worker expectations, along with the enterprise-class features, power, security and manageability a business requires.

View Product

---

This series of retail SATO printers include a heavy duty print mechanism and cutter assembly which carries on the tradition of durability and performance of SATO solutions.

View Product

---

ACHIEVE CUSTOMER SERVICE EXCELLENCE AND ASSOCIATE PRODUCTIVITY

Add value to the customer experience with targeted promotions and offers based on buying preferences. Empower store associates to more efficiently manage inventory and pricing at the shelf edge. Reduce your overhead costs and improve customer loyalty with the MC Series multi-function retail mobile computer.

View Product

---