Model 5300 RFID Smart Label Printer-Applicator
Weber's exclusive Model 5300 RFID label printer-applicator makes it easy to print, encode, verify and apply pressure-sensitive RFID smart labels to cartons and pallet loads in one automatic operation. In addition, the system determines if a tag is unverifiable and rejects it prior to application.
Choose from 203 and 300 dpi print engines
Capable of handling print speeds up to 16 ips
Numerous I/O's ease interfacing with external device
Monitor operation via a web browser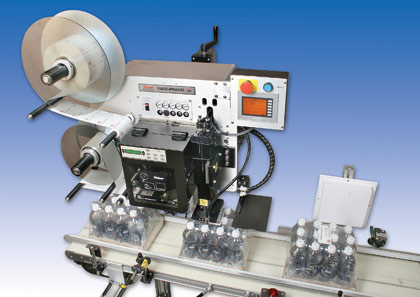 Model 5300 RFID Label Printer-Applicator
Designed and engineered by Weber, this system provides high quality smart labelling that will meet the RFID supply chain requirements of major retailers and government agencies, and ensures precise label printing and application.
The Model 5300 RFID offers a selection of thermal/thermal-transfer print-encode engines that produce smart labels imprinted with text, bar codes and graphics at 203 or 300 dpi. Depending on the print engine selected, smart labels can be up to 5″ wide and 6″ long and can be dispensed at up to 16 ips.
As a smart label is printed, the Model 5300 RFID's integrated encoder simultaneously transfers digital information to the thin, ultra-high frequency (UHF) transponder that is embedded in the pressure-sensitive label material.
That encoded information is instantly verified by the system, which then applies the smart label to the top or side of a carton or pallet load as it moves by on a conveyor line. Labels are applied using the non-contact, tamp-blow method, which gently blows the label onto the surface from 0.25″ and is accurate to within 0.06″.
The Model 5300 RFID also provides XML-enabled printing to permit direct smart label printing and encoding from leading ERP applications.
Pre-Apply Reject
If a tag is not verifiable, the system's unique swing plate automatically is deployed to intercept the smart label prior to application. This method does not alter print engine operation, media handling or dispensing, yet collects and counts the rejected labels for subsequent disposition.
The print engines encode EPC Gen 2 protocols; and because its firmware is upgradeable to support new protocols, users are assured that they can seamlessly upgrade to future RFID protocols as needed.


In addition, Weber is offering special retrofit kits that will enable present users of Model 5300 printer-applicators to upgrade their units to meet the requirements of smart labelling without completely replacing existing systems.
Special Features & Options
The Model 5300 RFID system includes a number of noteworthy features that add to the operational versatility of this printer-applicator:
• Browser-based monitoring: The status of all operational functions and configurations can be monitored by logging on to a web page that is unique to each Model 5300 unit.
• Numerous I/O's: The system can be interfaced with many types of external devices.
• One-to-one media consumption: Special label unwind and rewind dimensions are matched to the system's ribbon supply to ensure they are consumed at the same rate, reducing downtime and eliminating partial changeovers.
• Print job storage: Multiple label printing formats can be stored in the system's memory, making it easier for an operator to select a job directly from the applicator instead of downloading a computer file.
The Model 5300 system boasts numerous additional features as well, including a microprocessor controller with downloadable firewall capability, various inputs/outputs, plus durable construction that will withstand harsh industrial environments.
Other options include a 15-foot umbilical connection that enables the remote location of the unit's controller, an adjustable stand for optimum system orientation, label-on-pad sensor for added functionality plus beacon light alerts to signal the status of label and ribbon supplies.
Labels are formatted using Weber's proprietary Legitronic® Labelling Software, a package that combines label design, editing and printing with RFID encoding to create great-looking, readable smart labels.
Pressure-sensitive smart labels embedded with EPC Gen 2 inlays are available from Weber. These labels are ideal for high-quality thermal/thermal-transfer imprinting. Weber also supplies a variety of compatible thermal-transfer ribbons.
Options
• Adjustable stand
• Label-on-pad sensor
• Product presence sensor
• RFID retrofit kits
Adobe Reader is required to open and view PDF files. This can be downloaded free from adobe.com.
Available Documents
The Geset 125 labelling system is used to label cylindrical products automatically. Depending on the type and dimension of the product, different label sizes are used. The products are fed manually or by a conveying system provided by the customer at an infeed passage of the labelling system. Care should be taken on accurate alignment of the products between the two freely mounted rollers of the roll conveyor. The side guide's position the products flush with the outside edge of the roll conveyor.

The roll conveyor feeds the products to the labeller. There the label is applied with the part running forward onto the product and it is pushed by rotation and the back pressure of the wrapping unit onto the product. The back pressure of the wrapping unit (the speed of the wrapping unit is twice as fast as the speed of the base conveyor) enables the product in rotation. The roll conveyor forwards the finished labelled products to the outfeed. Here the products are removed manually or by the customer's conveying system.

View Product

---

The thermal inkjet printer IP-JET HP MK3 has been specifically designed for usage in dusty or damp situations. It is especially ideal for the food sector, as well as the plastics, pharmaceutical, and chemical industries, due to its IP65 protection level.

The IP-JET HP is a small inkjet printer with a printhead and control unit housed in one unit. Water and dust are kept out of the cartridge by sealing it and pressurizing it. The power supply features a waterproof connector, and the external connections' connectors are secured with an IP67 rating. The printhead does not need to be covered or removed for wet cleaning, unlike many other printers on the market.

View Product

---

Experience Effortless High-Resolution Printing: Introducing the Integra PP RAZR with Cutting-Edge Technology. Print Up to 34mm High on Virtually Any Product Surface with Ease. Be Amazed by the Permanent Print Head's Impressive Resolution, Lightning-Fast Speed, and Integrated Redundancy. Plus, its Compact Design Ensures Seamless Placement in Any Production Facility.

View Product

---

Inkjet nozzles can clog and dry up in a dusty printing environment, which is typical in wood-processing enterprises and other sectors. This results in poorly printed images. Our Markoprint Shutter Printhead HP prevents dust from entering the ink cartridge or gathering on the nozzles. During a production halt, the printhead automatically retracts the cartridge and shuts the open nozzle plate. After being paused for even several days, it is instantly ready to print again.

View Product

---