Weber 5300 – Label printer and dispenser
The new Legi-Air 5300 is a modular Label printer and dispenser distinguished by its extremely versatile applications and a very high operating run time. In addition, the system offers a high degree of operator-friendliness: the operator is supported in his work by several functions such as service interval or operating condition display.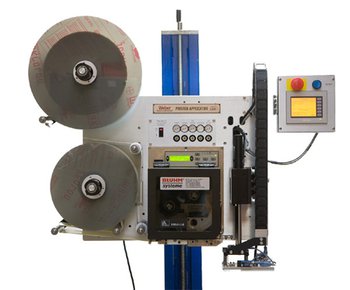 Label printer and dispenser for all labelling tasks
The Legi-Air 5300 is equipped with a variety of applicators for the most varied of tasks, such as linear, rotation or corner applicators and also double-sided labelling. This guarantees the highest possible flexibility, also with a view to future requirements. Various label application methods are in addition possible, including the tamp-blow and blow box method for no-contact high speed labelling. For label printing there is a choice of industry-proven printing modules by many manufacturers. RFID printing modules for programming of radio chips are also available in this connection.
Legi-Air 5300: brilliant and high resolution
The system requires only one step to print the labels in brilliant and high resolution with a positional accuracy of up to ± 0.5 mm, or writes to RFID tags, with the information changing as required. Printing instructions can be stored directly in the system memory for easy handling, to be locally called up again later by the operator. This enables working without a direct link to a PC.
Depending on applicator and application, label sizes of up to 180 x 500 mm can be processed and dispensing rates of up to 240 labels per minute are achievable. The system is suited for processing large label rolls with a maximum diameter of 350 mm (up to 600 m run length). In this way, the rolls do not need to be changed as frequently and the operating run time is considerably increased.
Multilingual and user-friendly display
The multi-lingual plain language display is particularly user-friendly. It may be freely positioned in a way to best suit the operator even in constrained production environments, such as under a conveyor system. Should there be a disruption, such as the end of the working materials, the system can send an automatic report to an e-mail address previously specified by the operator.  
The integrated service interval display will transmit a signal showing the next service date either to the conveyor system control or by e-mail. An integrated web browser can also be used to check the current service state. It is also possible to perform remote diagnosis via the browser.
The robust and enduring construction also renders the Legi-Air 5300 suitable especially for applications in rough production environments.
The Alpha HSM (High Speed Modular) is our new modular design that is based on various components that can be combined into the right system to meet your requirements.

View Product

---

Markoprint X1Jet HP Handhold A powerful mobile handheld inkjet printer for use in multiple locations The Markoprint X1JET HP HandHold inkjet printer is a versatile, mobile, industrial, small character inkjet printer. The X1JET HP HandHold is battery operated and will print high resolution text and images without being fixed to a production line.…

View Product

---

The TC51/TC56 touch computer is sleek and beautiful—yet smart, rugged and hardworking. Designed for the new business world, users get a rugged industrial design that looks and feels like the most popular pocketable consumer-style smartphones to meet worker expectations, along with the enterprise-class features, power, security and manageability a business requires.

View Product

---

This series of retail SATO printers include a heavy duty print mechanism and cutter assembly which carries on the tradition of durability and performance of SATO solutions.

View Product

---