Health & Beauty Labels
Whether organic lotions, lip balms or hand sanitizers, your health & beauty products can blossom with colorful, high-quality labels. And your family of products can share a design but remain unique for easy recognition on the store shelf.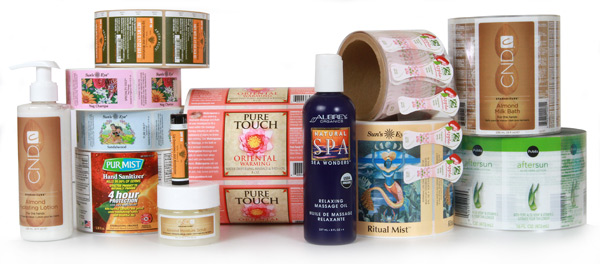 Great looking labels are an easy way to enhance your brand.
Weber can print your high-quality health and beauty labels on a wide variety of materials like clear film or foil materials in unique shapes, too. We can also help you refresh your design and bring new life to your brand through new shapes, colors and styles.
Health & Beauty Product Label Tips
Materials:
Clear film labels can be printed using our flexo or digital label presses allowing your product to be seen through the clear container.
Give your brand an up-scale look with metallic hot foil accents or metalized label material.
If you need minimum quantities, use digital printing for economical prices. Great for smaller labels, too.
Artwork:
To avoid color matching a label to a container, chose a clear film against your opaque bottle.
Matte finish varnishes give a formal, artisan look to products.
Special security seal die cuts in your label create a tamper-evident closure for your product.
---
Lip Balm Label with Security Seal
This lip sunscreen label has a built-in safety seal that keeps the cap from being removed before purchase. When product integrity is important, we can help you design a security feature into the label for consumer protection. Weber can give you a great looking label that helps sell your product and ensure product safety.Label Size: 2.125″ wide x 2.25″ highFacestock: White film with security perfsPrint method: FlexoTop Coat: None
Adobe Reader is required to open and view PDF files. This can be downloaded free from adobe.com.
Available Documents
Markoprint X1Jet HP Handhold A powerful mobile handheld inkjet printer for use in multiple locations The Markoprint X1JET HP HandHold inkjet printer is a versatile, mobile, industrial, small character inkjet printer. The X1JET HP HandHold is battery operated and will print high resolution text and images without being fixed to a production line.…

View Product

---

The TC51/TC56 touch computer is sleek and beautiful—yet smart, rugged and hardworking. Designed for the new business world, users get a rugged industrial design that looks and feels like the most popular pocketable consumer-style smartphones to meet worker expectations, along with the enterprise-class features, power, security and manageability a business requires.

View Product

---

This series of retail SATO printers include a heavy duty print mechanism and cutter assembly which carries on the tradition of durability and performance of SATO solutions.

View Product

---

ACHIEVE CUSTOMER SERVICE EXCELLENCE AND ASSOCIATE PRODUCTIVITY

Add value to the customer experience with targeted promotions and offers based on buying preferences. Empower store associates to more efficiently manage inventory and pricing at the shelf edge. Reduce your overhead costs and improve customer loyalty with the MC Series multi-function retail mobile computer.

View Product

---