Furniture Polish Labels
When creating a family of furniture care products such as conditioners and oils, be sure to let the customer see exactly what they will be putting on their expensive wooden treasures. By using clear labels and containers, the buyer can see the products inside, showing your quality ingredients. And since your customer will be concerned about the ingredients, your label needs to show caution information and detailed instructions.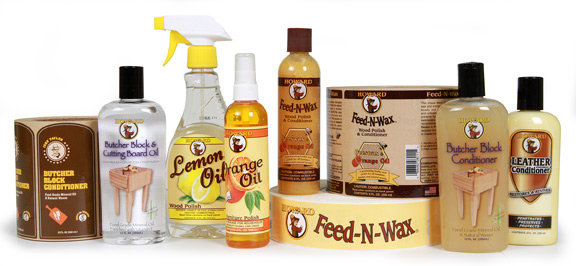 Use the right materials and labels to highlight your wood care products.
The label also needs to be durable as it will be handled repeatedly, often with the contents dripping on the label. This could lead to important label directions becoming unreadable. Always use the right label materials for your labels and consider lamination to make your label look better and last longer.
Furniture Care Product Label Tips

Materials:
Flexo label printing allows bright colorful labels in up to 10 colors on clear film materials.

Expanded text booklet labels with multiple layer construction let you include large amounts of text for ingredients, caution and handling instructions.

Durable label materials hold up to harsh storage conditions and consumer handling.
Artwork:
Adding lamination to your label will help it look better and last longer.

Custom die shapes can match your label to the lines of the container.

Matching front & back labels can enhance a products design.

Be sure to add your social media sites and a QR to engage your customers.
All labels can be applied using a label applicator system.
Adobe Reader is required to open and view PDF files. This can be downloaded free from adobe.com.
Available Documents
Markoprint X1Jet HP Handhold A powerful mobile handheld inkjet printer for use in multiple locations The Markoprint X1JET HP HandHold inkjet printer is a versatile, mobile, industrial, small character inkjet printer. The X1JET HP HandHold is battery operated and will print high resolution text and images without being fixed to a production line.…

View Product

---

The TC51/TC56 touch computer is sleek and beautiful—yet smart, rugged and hardworking. Designed for the new business world, users get a rugged industrial design that looks and feels like the most popular pocketable consumer-style smartphones to meet worker expectations, along with the enterprise-class features, power, security and manageability a business requires.

View Product

---

This series of retail SATO printers include a heavy duty print mechanism and cutter assembly which carries on the tradition of durability and performance of SATO solutions.

View Product

---

ACHIEVE CUSTOMER SERVICE EXCELLENCE AND ASSOCIATE PRODUCTIVITY

Add value to the customer experience with targeted promotions and offers based on buying preferences. Empower store associates to more efficiently manage inventory and pricing at the shelf edge. Reduce your overhead costs and improve customer loyalty with the MC Series multi-function retail mobile computer.

View Product

---