Epson GP-M831 Printer
Offering a more flexible alternative to dot matrix technology, the GP-M831 combines the sturdiness of a dot matrix printer with the advantages of inkjet, such as wider media compatibility and higher-quality prints. Unlike dot matrix printers, the versatile GP-M831 can print advanced barcodes and crisp text, and can be used with a variety of media, including glossy paper and labels.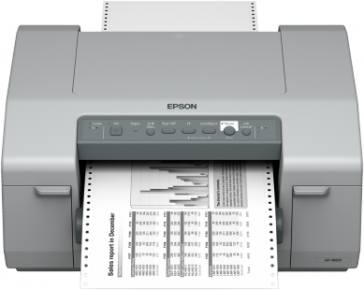 Whatever the media used, Epson's DURABrite Ultra pigment ink yields long-lasting prints that resist water, fading, smudging and highlighter pens. The GP-M831 has a durable build and is designed to provide up to five years of high-volume, high-performance printing.
Helping to improve efficiency, the GP-M831 prints up to 91.7mm/sec in super draft mode, and clears paper jams in seconds by automatically releasing the paper if an error occurs. This is backed up by a push-button manual paper release. The GP-M831 comes with parallel, USB and LAN 100/10BASE interfaces as standard to make integration easy.
KEY FEATURES
Tractor feed
Prints on continuous single layer paper Flexible
Prints advanced barcodes
Versatile
Use with glossy and label media
High-quality
Long-lasting prints
Reliable
Anti-nozzle-block technology
ZEBRA ZT510 – NEXT-GENERATION PRINTING THAT IS BUDGET-FRIENDLY

Designed to strike the ideal balance between performance and value, the Zebra ZT510 includes the core features you need in an industrial printer at a cost-effective price point.

View Product

---

ZT400 printers feature USB, Serial, Ethernet and Bluetooth® connectivity along with expanded RFID capabilities. Plus, with Zebra's Link-OS® environment, an innovative operating system, your customer can easily integrate, manage and maintain these printers from anywhere in the world.

View Product

---

ZEBRA ZT600 SERIES – INDUSTRIAL BRAWN FOR EVERY CHALLENGE

Advancing the legacy of the industry-leading Xi Series, the Zebra ZT600 Series printers combine rugged durability and exceptional performance on a user-friendly, future-ready platform.

To keep your critical operations running smoothly, you need high-performance industrial printing systems that can stand the test of time, both physically and technologically. Zebra's ZT610 and ZT620 advance the legacy of their industry leading Xi Series predecessors, offering next-generation operational visibility, control and adaptability to meet your evolving needs—all with the rugged durability and 24/7 reliability you expect from Zebra.

View Product

---

Markoprint X1Jet HP Handhold A powerful mobile handheld inkjet printer for use in multiple locations The Markoprint X1JET HP HandHold inkjet printer is a versatile, mobile, industrial, small character inkjet printer. The X1JET HP HandHold is battery operated and will print high resolution text and images without being fixed to a production line.…

View Product

---