Epson GP-C831 Printer
Our newly developed printhead protection system protects the ink head from dust to ensure reliable, continuous printing. In addition, Epson's advanced DURA Brite pigment inks deliver outstanding stability and resistance to water, chemicals, fading and smudges. KEY FEATURES GHS label printer Ideal for large labels including large format drum and chemical labeling BS5609 certified Complies…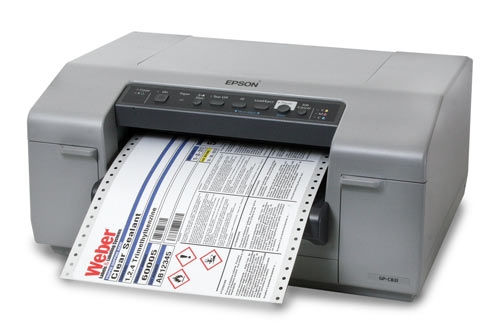 Our newly developed printhead protection system protects the ink head from dust to ensure reliable, continuous printing. In addition, Epson's advanced DURA Brite pigment inks deliver outstanding stability and resistance to water, chemicals, fading and smudges.
KEY FEATURES
GHS label printer
Ideal for large labels including large format drum and chemical labeling
BS5609 certified
Complies with the latest GHS standards for chemical labelling
Fast print speeds of up to 91.7mm/sec
Reliable
Engineered to deliver five years (600,000 prints) of high-quality, hassle free printing
Cost-effective
High-capacity, individual ink cartridges
Adobe Reader is required to open and view PDF files. This can be downloaded free from adobe.com.
Available Documents
ColorWorks GP-C831
ZEBRA ZT510 – NEXT-GENERATION PRINTING THAT IS BUDGET-FRIENDLY

Designed to strike the ideal balance between performance and value, the Zebra ZT510 includes the core features you need in an industrial printer at a cost-effective price point.

View Product

---

ZT400 printers feature USB, Serial, Ethernet and Bluetooth® connectivity along with expanded RFID capabilities. Plus, with Zebra's Link-OS® environment, an innovative operating system, your customer can easily integrate, manage and maintain these printers from anywhere in the world.

View Product

---

ZEBRA ZT600 SERIES – INDUSTRIAL BRAWN FOR EVERY CHALLENGE

Advancing the legacy of the industry-leading Xi Series, the Zebra ZT600 Series printers combine rugged durability and exceptional performance on a user-friendly, future-ready platform.

To keep your critical operations running smoothly, you need high-performance industrial printing systems that can stand the test of time, both physically and technologically. Zebra's ZT610 and ZT620 advance the legacy of their industry leading Xi Series predecessors, offering next-generation operational visibility, control and adaptability to meet your evolving needs—all with the rugged durability and 24/7 reliability you expect from Zebra.

View Product

---

Markoprint X1Jet HP Handhold A powerful mobile handheld inkjet printer for use in multiple locations The Markoprint X1JET HP HandHold inkjet printer is a versatile, mobile, industrial, small character inkjet printer. The X1JET HP HandHold is battery operated and will print high resolution text and images without being fixed to a production line.…

View Product

---