Axicon PV-1072 Portable Barcode Verifier
Once more Axicon has used its innovative skills and detailed knowledge of the barcode quality market to offer you the best in portable barcode verification. Introducing the Axicon PV-1072 – the ideal hand-held portable barcode verifier. Whether your priority is compliance, accuracy, reliability, ease of use, capability or cost this verifier ticks all of the boxes. Everything is geared to making the job easier – which means the job gets done quicker.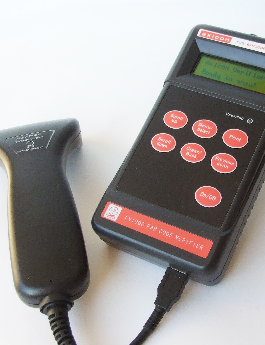 This unit is equally at home in the Q.A. laboratory, the print room, warehouse or on the production line; it is light-weight, rugged and easy to use, giving the user a clear and instant go/no-go report on the quality of the barcode. Designed principally for use in the retail supply chain, the PV-1072 is capable of verifying a wide range of barcodes including EAN-8, EAN-13, UPC-A and UPC-E.
If you need the peace of mind that comes with knowing that your barcodes will scan first time every time then the PV-1072 is for you. Results can be printed directly to an optional printer or saved into memory for subsequent transfer to a PC (using a USB memory stick).
Markoprint X1Jet HP Handhold A powerful mobile handheld inkjet printer for use in multiple locations The Markoprint X1JET HP HandHold inkjet printer is a versatile, mobile, industrial, small character inkjet printer. The X1JET HP HandHold is battery operated and will print high resolution text and images without being fixed to a production line.…

View Product

---

The TC51/TC56 touch computer is sleek and beautiful—yet smart, rugged and hardworking. Designed for the new business world, users get a rugged industrial design that looks and feels like the most popular pocketable consumer-style smartphones to meet worker expectations, along with the enterprise-class features, power, security and manageability a business requires.

View Product

---

This series of retail SATO printers include a heavy duty print mechanism and cutter assembly which carries on the tradition of durability and performance of SATO solutions.

View Product

---

ACHIEVE CUSTOMER SERVICE EXCELLENCE AND ASSOCIATE PRODUCTIVITY

Add value to the customer experience with targeted promotions and offers based on buying preferences. Empower store associates to more efficiently manage inventory and pricing at the shelf edge. Reduce your overhead costs and improve customer loyalty with the MC Series multi-function retail mobile computer.

View Product

---