Weber 114 One- or Two-Sided Labeling System
The brand-new Weber 114 system provides a simple, cost-effective solution to low volume labeling for applying labels to one or two sides of a straight-walled product or package. Featuring two Weber Alpha Compact applicator heads and a 7.75″-wide, 45″-long belt conveyor, the Model 114 can be added to in-place production lines or operated manually as a stand-alone applicator.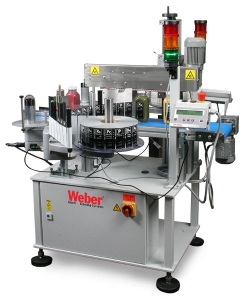 Weber's versatile 121 provides a simple, cost-effective solution to position and apply one or two pressure-sensitive labels on straight-walled containers. It can handle labels up to 6 inches tall and 12 inches long and apply them at rates up to 45 products per minute to a variety of sized products.
Products are delivered to the Weber 114's built-in Alpha Compact applicator heads via a 7.75″-wide, 45″-long belt conveyor, which permits product transfers at both the entry and discharge ends. The unit is capable of a superb placement accuracy of 0.03″.
The Weber 114 is easy to use and can be set-up quickly. During application, labels are peeled away from the liner and securely attached to products through the use of the wipe-on label applicators.
The controller for the Weber 114 (seen at right) features a display HMI that replaces the operator's panel with an LCD display that provides full access to all adjustment parameters.
Each version of the Alpha Compact features rugged die-cast aluminum construction, single-key calibration, automatic recognition of missing labels, in-production speed adjustment, and more.
Applies label up to 6″ high x 12″ long
Handles up to 45 products/minute
Placement accuracy of 0.03″
The unit boasts robust steel construction so it is perfect for lower-volume, intermittent labeling projects or multiple-shift larger-scale operations. This is a very reliable wipe-on application system that is built to last.
Adobe Reader is required to open and view PDF files. This can be downloaded free from adobe.com.
Available Documents
weber-model-114
The Alpha HSM (High Speed Modular) is our new modular design that is based on various components that can be combined into the right system to meet your requirements.

View Product

---

These light-weight Towa brand label applicators are the fast, easy way to manually apply pressure-sensitive labels, including RFID tags, to your products. They are available in a variety of sizes from 20mm to 100mm in width. If you need to apply labels to small batches of products or cartons, these Towa hand-held label applicators can help speed up production and accuracy. Just squeeze the lever and labels are advanced for application. Fast and easy labeling!

View Product

---

You probably know that meeting UPC bar code requirements can be a job in itself. Manually stapling tags onto ends of lumber is not only time-consuming, but also tiring. That's why Weber developed the improved FasTagger II end-tagger. The FasTagger II is a labeling system specially built for lumber mills and forestry product companies that combines a heavy-duty stapler with a label dispensing apparatus that allows one-handed end tagging of finished lumber.

View Product

---

Weber's versatile 121 provides a simple, cost-effective solution to low-volume wrap-around labeling that is as accurate and flexible as similar labeling systems used in larger-scale operations. This labeling system features the fast and accurate positioning of full, overlap and partial-wraps of pressure-sensitive labels on cylindrical containers. Products up to 7″ in diameter and up to 12″ high easily can be accommodated using the system's adjustable guide rails.

View Product

---
[contact-form-7 404 "Not Found"]