Legi-Air 5300 Tyre Label Printer-Applicator
According to an EU regulation all new tires produced in or after January 2012 and placed on the market within the EU must bear a standardized EU sticker, such as those already seen on washing machines and refrigerators. The new label must contain precise details with seven grades (A-G) of fuel efficiency, wet grip, and exterior noise when in motion (in dB), respectively.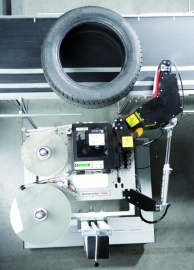 Double Advantage Tyre Labelling
The Legi-Air 5300 Tyre label printer-applicator quickly and reliably labels tyres in accordance with the new regulation using tyre labels tailored to these requirements.
Fully Automatic
Ideal for rough production conditions
High-grade label printing in a single operation
Prints and Applies up to 24 dots/mm at 600 dpi
All conventional data interfaces
Service interval display
Display controller for simple operation
Easy integration
CE certification
Adobe Reader is required to open and view PDF files. This can be downloaded free from adobe.com.
Available Documents
LA4050E_uk
The Alpha HSM (High Speed Modular) is our new modular design that is based on various components that can be combined into the right system to meet your requirements.

View Product

---

The Epson C7500 inkjet label printer is a fast, full-colour label printer whose rugged design allows minimal maintenance, low cost of ownership, and is ideal for busy, on-demand labelling environments.

The Just-in-Time Colour printing lets you print the labels you need, when you need them, quickly and economically. The C7500 uses durable inks that won't smudge, smear or fade. And the highly durable labels are up to 50% lower in cost than laser or thermal-transfer printed labels.

View Product

---

The perfect colour printer for GHS and medical device labels.

Now you can dramatically reduce colour label costs, increase operational efficiencies and quickly produce high-quality colour labels with Just in Time ColourTM printing on Epson's high-speed ColourWorks C3500 Inkjet Label Printer. This compact inkjet printer is perfect for in-house on-demand printing of small GHS chemical labels, short run food labels, medical device labelling and more.

View Product

---

Brands and high-quality products need suitable labels to represent the image and reflect the branding. Weber Marking Systems is geared for the production of high-quality primary and pre-printed labels for any application.

View Product

---
[contact-form-7 404 "Not Found"]