Bottle-Matic II Dual Label Applicator
The Bottle-Matic II goes one step further by applying front and back pressure-sensitive labels to cylindrical objects. This makes it easy, for example, to label round containers with an eye-catching decorative label on the front and a nutrition/ingredients label on the back.
The Bottle-Matic II is available in 10″ wide and 16″ wide models that fit most products. Options include a waste re-winder that collects the label liner as it is used and a large roll adapter so you can work longer between label roll change-overs.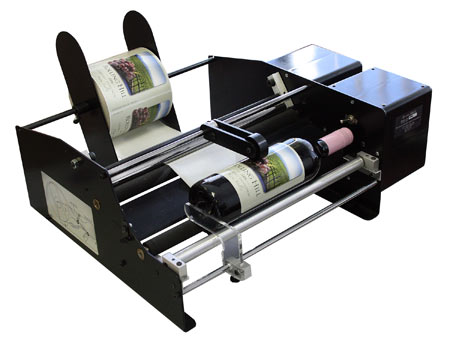 Bottle-Matic II Dual Label Applicators
Bottle-Matic II labellers enable you to label the front and back of all kinds of cylindrical objects by setting the desired spacing using the unit's index knob. The operator inserts the container and depresses a footswitch and the label is applied. The machine immediately inserts a gap that was set by the index knob and applies the second label.
Most wine bottles are labelled in less than five seconds, enabling the user to quickly remove the bottle and insert another to start the procedure again. After a rhythm is established, bottles can be labelled very quickly.


Loading labels is easy as well; just feed the labels between the dispensing tables, then through the patented feed-roll assembly and snap it into place.
The Bottle-Matic comes in two sizes: Standard 10″ wide and the larger 16″ wide version for taller products. Both can handle products up to 10″ in diameter.
Label objects from 0.5″ to 10″ diameter; ideal for test tubes to 1.5-gallon bottles.
Gap adjustment is quick and easy.
Accurate: Maintains repetitive gap spacing to 0.0625″ or less on most containers. Holds 0.0312″ side-to-side accuracy on most containers.
Labels cylinders to 15″ in length (or longer if the item has a neck).
Able to handle most tapered containers by simply adjusting the idle roller position.
Labels over 1000 pieces per hour with average dexterity.
Side frames are laser cut from quality steel, then formed, countersunk, deburred and inspected.
Dispensing tables are formed out of 6061-T6 aluminium. Its peel edge is hand-milled to spec within .001″.
Dispensing tables are polished with ultra-fine polishing compound so paper flows freely around the plate.
Bottle-Matic II uses dual AC-shaded pole gear motors.
Micro-switch activated; will work on all kinds of labels.
Modifications are available for those hard-to-label containers.
Adobe Reader is required to open and view PDF files. This can be downloaded free from adobe.com.
Available Documents
bottle-matic
ZEBRA ZT510 – NEXT-GENERATION PRINTING THAT IS BUDGET-FRIENDLY

Designed to strike the ideal balance between performance and value, the Zebra ZT510 includes the core features you need in an industrial printer at a cost-effective price point.

View Product

---

The Geset 125 labelling system is used to label cylindrical products automatically. Depending on the type and dimension of the product, different label sizes are used. The products are fed manually or by a conveying system provided by the customer at an infeed passage of the labelling system. Care should be taken on accurate alignment of the products between the two freely mounted rollers of the roll conveyor. The side guide's position the products flush with the outside edge of the roll conveyor.

The roll conveyor feeds the products to the labeller. There the label is applied with the part running forward onto the product and it is pushed by rotation and the back pressure of the wrapping unit onto the product. The back pressure of the wrapping unit (the speed of the wrapping unit is twice as fast as the speed of the base conveyor) enables the product in rotation. The roll conveyor forwards the finished labelled products to the outfeed. Here the products are removed manually or by the customer's conveying system.

View Product

---

The Geset 112 labelling system is used to label square products on the bottom side automatically. Depending on the type and dimension of the product, different label sizes are used. The products are fed manually or by a conveying system provided by the customer at an infeed passage on the labelling system. Care should be taken on accurate alignment of the products. It is essential that the products are forwarded separately to the applicator with a gap between each other.

When the light barrier is reached, an application trigger is tripped. The label applicator applies then in Wipe On procedure a label onto the product. The label on bottom side is pushed on the product by the self-weight of the product. After labelling the products move on and can be removed from conveyor by the customer.

View Product

---

The Geset 111 labelling system is used to label square products on the top side automatically. Depending on the type and dimension of the product, different label sizes are used. The products are fed manually or by a conveying system provided by the customer at an infeed passage on the labelling system. Care should be taken on accurate alignment of the products. It is essential that the products are forwarded separately to the applicator with a gap between each other.

When the barrier is reached, an application trigger is tripped. The label applicator applies a label on the product in Wipe On procedure. The label on the top side is pushed on to the product by a brush or roller. After labelling, the products move on and can be removed from the conveyor by the customer.

View Product

---
[contact-form-7 404 "Not Found"]