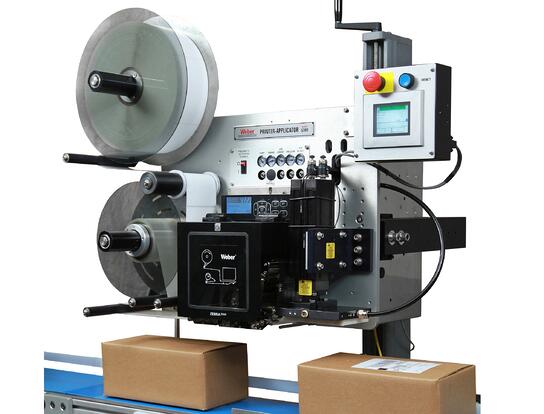 Whether you're considering label automation for the first time or upgrading older label printer-applicators, there are several points to bear in mind. Weber is here to ensure you have all the information you need to make an informed decision that will benefit you and your future.
On the market, print-apply systems come in a wide variety of models and manufacturers in the current market.  However, there is also significant variances in these systems' features and structure that can effect downtime, maintenance, and lifespan.
Durability
You can see modest to overwhelming activity depending on the product and the manufacturing line where the print-apply technology is deployed. A distribution center might label a package every few seconds, while a first-time automation company might label 10-20 pieces each hour.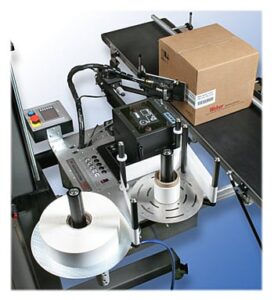 In both circumstances, long-term durability is critical. What if a machine breaks down? Can you afford to shut down your production line while the system is repaired? This can result in a bottleneck, preventing products from being delivered. You could utilize a backup printer-applicator, but this can be costly.
When buying a new print-apply system, like with anything else, look for manufacturer that has demonstrated a track record of durability and maintenance. As with anything else, you get what you pay for. Buying a low-cost system will lead to headaches as well as a financial strain when it comes time to replace it.
Research systems made of heavy-duty materials such as stainless steel and aluminum plate. Verify that all connections are secure from damage or abuse, and that moving parts, such as applicator arms, are shielded to keep the operator safe. Make sure the print engine is a current model from a major manufacturer such as Zebra or Sato. These easily integrate with your online systems for loading label format and job monitoring.
Maintenance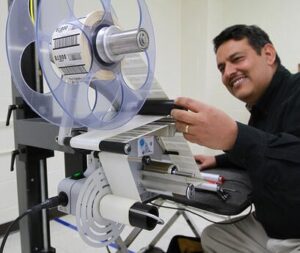 To keep your labeling system functioning at its best, it needs to be serviced on a regular basis. Heavy use might cause parts to wear out. Rollers, drive belts, and other moving parts should be heavy-duty and easily accessible in the event that they need to be replaced.
To acquire maintenance parts promptly, efficiently, and at a reasonable price, ensure you have established a supply line with your manufacturer. Aftermarket parts are typically of a lower quality and can cause damage to your system. Your manufacturer should provide thorough technical support, if you have any severe problems with your system. Having a service technician available for on-site visits is also crucial.
Check the track record with actual customers or seek for online case studies of these systems in addition to the warranty of the equipment you are considering acquiring. A quick phone call could save you a lot of time and frustration. Look for someonea manufacturer that has a track record of happy clients and equipment that is long-lasting.
Easy-To-Use
Print-apply systems, despite their appearance, are complex machines. They must coordinate the printing of numerous label types, dispense the labels onto an applicator, and then apply the labels at the appropriate moment, with varying spacing and orientation. Instead of relying on the operator to be an expert, you want a controller that does all the heavy lifting for you in the background.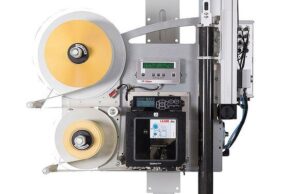 You should look for a system with a large touchscreen that allows you to navigate through instructions or menus to get what you're looking for. Many systems only require a minimal amount of user input to get the printer-applicator working correctly or to make minor changes. Many modern systems come with troubleshooting information as well as other important information about your equipment, such as event logs and status. It's always preferable if the operator can diagnose a problem without the need for a service call or disruption in production.
Flexible Design
Modern printer-applicators typically use modular construction to develop systems that may be customized to meet the specific needs of your application. When necessary, modular components make troubleshooting and replacement easier.
It's critical to choose a manufacturer who can provide the correct type of applicator for your label application. Some cartons will require two labels on adjacent sides (twin-tamp); others will require a wrap-around corner label with the identical information on each panel (corner-wrap). Labels can be applied on pallets at a distance, on the bottom and top of the same item, or even wrap a 3-sided label around a clam shell (common in bakery applications). Wipe-on, blow-on, or tamp-on options should be available for a basic print-apply system.  Depending on the type of product or application, one of these will function better than the others.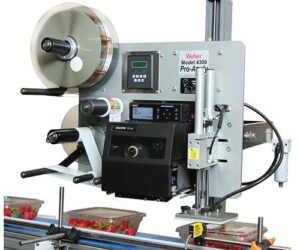 One of the issues with print-apply is print head erosion over time. Look for a brand that uses powered unwind and rewinders for label transport to eliminate or reduce this degradation. T his keeps pressure equalized, instead of the frequent jolting motions when the applicator print engine advances the label material. The key to long-term print head life is consistent, even label movement.
Cost Effective
There are several elements to consider when evaluating the lifetime cost of your print-apply system. Compressed air is used by most tamp-blow and blow-on applicators to transfer the label from the tamp pad to the product. This necessitates switching from a vacuum on the tamp pad (which holds the printed label in place) to a blast of air that swiftly attaches the label. Some systems are inefficient, and air leaks around the filter can occur. Choose a system that uses a modulated vacuum to reduce air use by measuring pressure with integrated sensors and only use what is required. Small fans can clog or become unreliable in harsh settings, and they don't always perform as expected in systems that use small fans instead of compressed air.
Look for manufacturers that do not require routine maintenance. This cuts down on downtime and unnecessary part replacement. Look for a well-made print-and-apply solution that doesn't require constant attention or downtime.
Safety
All companies must be concerned with employee safety. Many moving parts in print-apply systems have pinch points, and the moving applicator arm poses a potential risk of injury. Look for a system that is designed to work safely and to keep operators safe. It should comply with EN 415-10 safety criteria and provide an emergency stop feature in systems that need more force than the EN 415-10 standard considers safe. To reduce exposure to moving parts, guards should be included.
The Weber Model 4050 Label Printer Applicator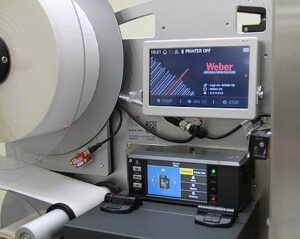 When Weber Packaging Solutions built their new Model 4050 label printer applicator, they took into account all of the aforementioned factors. The system may be customized to any application thanks to its constant modular design. The Model 4050 accepts print engines from any major manufacturer. It can be configured with a variety of label applicators and is available in right or left-hand application variants.
The Model 4050 uses modulated vacuum to save up to 80% on air use compared to other systems. During operation, integrated sensors continuously monitor the appropriate labeling pressure and adjust as needed. When an emergency halt occurs on the production line, two compressed air circuits keep labels on the tamp pad and the thruster in place. When the emergency is over and the line is reconnected, there is no need to reset the applicator.
The pneumatic system has a glass cover that makes it easy to view and access for operation, servicing, and cleaning. One pressurized air cycle is for safety-related procedures like repositioning the tamp, while the other is for general tasks like label management. The activity is easy to follow thanks to color-coded tubing and LED indicators.
Powered unwinders and rewinders are used in the Model 4050 to reduce wear on the printing modules while also ensuring perfect printing. The labeling module was created without service parts, eliminating the need to replace parts at regular intervals. On the Model 4050, you only need to replace parts if needed. The print engine is the only equipment that requires maintenance, and it should be maintained according to the manufacturer's specifications. All Model 4050s come with a non-stick air-assist tube as standard.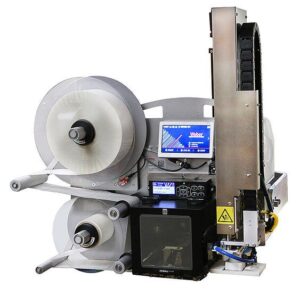 To decrease downtime and eliminate incomplete changeovers, the 13.75″ unwind matches the label length and ribbon length for one-to-one media consumption. The Model 4050 has a 7-inch LCD color touch screen that makes it simple to use. It has standard features including problem and diagnostic notifications, as well as information on current productivity and machine condition. An event log keeps track of recent system activity. B right and dark modes are available on the resistive touch screen (which can be utilized with gloves). A logic controller is offered as an add-on to provide unrestricted communication. QR codes for remote technical help are also included on the display.
Furthermore, the Model 4050 complies with all EN415-10 safety standards. During production, Weber's quality assurance program monitors parts and assembly. Designed for 24/7 operation, the system is a compact, robust label printer applicator that can satisfy all of your labeling demands.