ZD500R RFID Printers
Zebra ZD500R UHF RFID Printer Advanced features in a compact, easy-to-use device. The ZD500R extends Zebra's broad range of RFID printers by adding UHF RFID printing and encoding to Zebra's line of industry-leading thermal desk top printers. Designed for applications where space is at a premium, the compact ZD500R offers simple, one-touch printing and encoding, straightforward loading, and automatic RFID calibration, making it ideal for applications where technical support staff is not available, such as retail in-store exception tagging.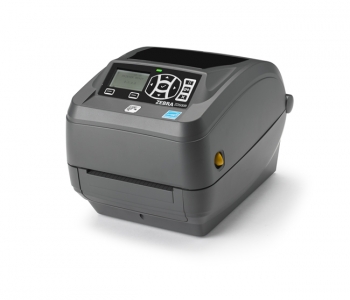 The printer supports both direct thermal and thermal transfer printing and is compatible with inlays from all leading suppliers. The ZD500R can be used with a variety of RFID labels and tags from small, item-level hang tags to large case and pallet labels. By encoding RFID inlays that are spaced closer together, the ZD500R enables lower media costs, less media waste and fewer roll changes.
The printer can handle the most demanding applications with standard features that include Parallel, Serial, USB and Ethernet connectivity; large memory; and Zebra programming language. Options include cutter and peeler, Bluetooth and Wi-Fi-certified communications, and high-resolution printing.
The ZD500R leverages Zebra's new Link-OS™ environment—Zebra's innovative software platform with powerful applications that enhance the capabilities of the printer, making it significantly easier to integrate into global operations and manage from any location.
Featuring the Link-OS Cloud Connect application, the ZD500R can connect to the Cloud directly and securely, forwarding data from any port. The Link-OS Print Touch™ app allows users to pair the ZD500R to NFC-enabled devices with a simple tap, giving them immediate access to the data they need, including Zebra how-to videos and product support.
Ideal for:
• Healthcare & Pharmaceutical
– patient care & ID
– drug tracking
– asset management
• Hospitality & Leisure
– patron identification
– ticketing & admissions
• Libraries, schools & colleges
– asset marking
• Postal services
• Government
– ID & Border services
Adobe Reader is required to open and view PDF files. This can be downloaded free from adobe.com.
Available Documents
ZD500R Data Sheet
The innovative Markoprint X1JET HP inkjet printer codes absorbent and semi-absorbent surfaces quickly, accurately and reliably. It is designed for a different range of applications in the food and beverage industry as well as the chemical and pharmaceutical industry. The controller and printer are combined in one single unit, making the system extremely compact.

View Product

---

The thermal inkjet printer IP-JET HP MK3 has been specifically designed for usage in dusty or damp situations. It is especially ideal for the food sector, as well as the plastics, pharmaceutical, and chemical industries, due to its IP65 protection level.

The IP-JET HP is a small inkjet printer with a printhead and control unit housed in one unit. Water and dust are kept out of the cartridge by sealing it and pressurizing it. The power supply features a waterproof connector, and the external connections' connectors are secured with an IP67 rating. The printhead does not need to be covered or removed for wet cleaning, unlike many other printers on the market.

View Product

---

To enable continuous marking in ongoing production, our Markoprint NonStopPrinting printhead holds two alternately printing cartridges. Because the other ink cartridge is printing on the same position, each ink cartridge can be changed, cleaned, or serviced without pausing the machine.

An intelligent automatism prevents both cartridges from going empty at the same time. The first cartridge will always print two consecutive print jobs, taking turns with the second cartridge, which will only print one. This sophisticated automatism avoids both cartridges from running out at the same time. This will keep the ink from drying out in both cartridges. When the cartridge with the larger print volumes is empty, a warning will show, and the other cartridge will continue printing until it is replaced. The new cartridge will print the lower quantities to allow for you to replace the "older" cartridge. A sophisticated workflow that will boost your efficiency and productivity.

View Product

---

The innovative Integra Ultimate thermal inkjet printer not only provides IP65 protection against dust and moisture, but it also closes and cleans the nozzle plate at each pause. This system ensures that the printing is always clean, with faultless results even after extended breaks. As a result, the ink cartridges' open times are multiplied many times. Two HP Class thermal inkjet ink cartridges can be used with the print head. As a result, the system produces beautiful prints with a maximum height of 25 mm.

View Product

---