Weber Thermal-Transfer Ribbons
Weber's long experience with thermal-transfer print technologies and compatible label materials has given us a broad understanding of exactly which ribbon is best suited for any application. Resin ribbons are suitable for very special applications. Each ribbon is formulated to print high-density bar codes, text and graphics for product identification, work-in-process, inventory control, shipping and other applications.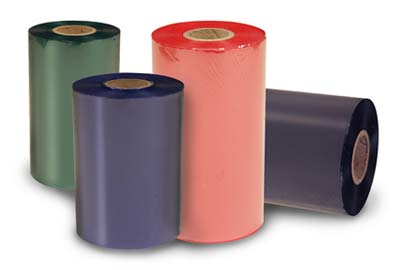 We can help you find the right ribbon for your labelling requirements.
There are three different types of ribbons:
Wax Ribbon
Wax ribbons: Very smooth and sensitive, especially for low printing-temperatures
These are especially smooth and sensitive.
With wax ribbons you can print with a high-contrast with low temperature. These ribbons are suitable for normal and silk matt papers.
Examples of Wax Ribbon Products
DNP TR3021, 22, 23 Wax Thermal Transfer Ribbon
Armor AWR470 Thermal Transfer Ribbon
---
Wax-resin ribbon
Universal ribbons: Very wipe and scratch resistant.
Because of the resin in the colour, the print of these ribbons is more wipe and scratch resistant compared to print with a normal wax ribbon.
These ribbons are suitable for all glossy papers and synthetic surfaces like plastic. The printing of small writings with barcodes which are rotated 90° is another advantage.
Examples of Wax-Resin Ribbon Products
DNP M265 Wax/Resin Thermal Transfer Ribbon
DNP TR4085plus Premium Resin-Enhanced Wax
---
Resin ribbon
Resin ribbons: For special applications with a high consistency.
These ribbons are suitable for printing on type plates, solvent-resistant labels, synthetic labels, heat-resistant labels, washable labels and other special applications.
Examples of Resin Ribbon Products
Adobe Reader is required to open and view PDF files. This can be downloaded free from adobe.com.
Available Documents
DURAPRINT is a very versatile, multi-purpose wax-resin ribbon.
It provides a higher level of resistances compared to standard wax ribbons and
prints small characters and barcodes with a high level of quality.

View Product

---

PLUSMARK is the high performance wax ribbon from Weber. It offers all
the benefits of a general purpose wax ribbon with an improved print durability
and a capability to print on synthetic label materials.

View Product

---

EASYMARK is the standard Weber wax ribbon which delivers consistent print
quality on any kind of paper label materials. It prints high density legible
barcodes and traceability data for short life labeling needs.

View Product

---

ECOMARK is the most competitive wax ribbon from Weber.
It makes no compromise between price and quality in order to match
standard wax labeling applications.

View Product

---