Weber Legi-Flex 6100 Label Print & Apply
With unprecedented demand on supply chain, the effects on businesses' warehousing and logistics operations are more significant than ever. All businesses must take the need for automation into account. The brand-new Weber Legi Flex 6100 is a ground-breaking new design that addresses the automation requirements of businesses, especially in respect to the handling and labelling of items.
The Legi-Flex 6100 features a new "3D Label Application Module" while still utilising the tried and tested labelling technology of our LA4050 series. Traditionally, labelling systems have required alignment or product positioning assistance and have labelled products in a fixed position as they are moved along a conveyor belt. The Legi-Flex 6100's innovative sensor technology recognises the position of each box and automatically adjusts itself to label the product with pinpoint accuracy in the proper location.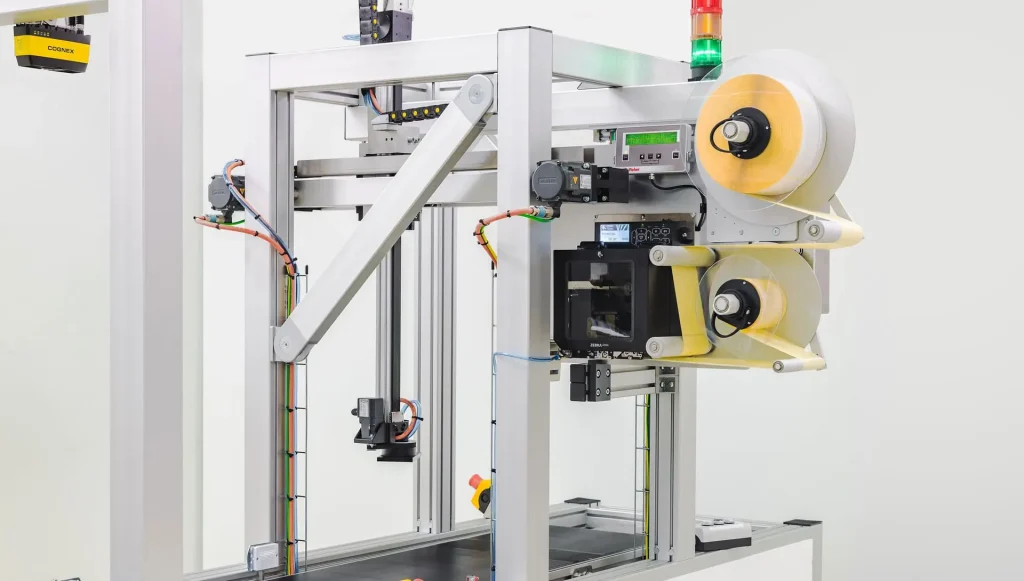 The Legi-Flex 6100 can automatically print labels and apply them to a diverse range of packages and containers of different sizes and shapes. Like all Weber Labelling Systems, the Legi-Flex 6100 is simple to integrate into current packaging lines or to use as a standalone option. Most significantly, unlike standard labelling systems that require extra labelling systems for each labelling position, the "3D Labelling Module" allows you to use a single labelling system per line.
Key features:
Minimal Downtime for Label Reel Replacement or Servicing

 

A wide range of label shapes and sizes are supported, including non batched items.

 

Innovative "3D Labelling System" concept

 
 

Onboard IOT for increased connectivity

 

Choice of Print Engines that works with your current setup

 

Modular Design – Rewind, Unwind, Applicator, Print Engine

 
Adobe Reader is required to open and view PDF files. This can be downloaded free from adobe.com.
Available Documents