Weber customers know the answers to their questions are just a phone call away.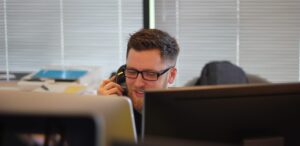 As your equipment ages, there is a higher risk of production stoppages and downtime. By partnering with us at Weber, we can ensure that your equipment will function correctly and lengthen its lifespan. By doing so, downtime risks are reduced significantly assuring printer availability and code quality to get the most out of your printing machines.
Helpdesk Support
In addition to a providing direct account representative in your area, there is an experienced team of customer service representatives at our world headquarters waiting to assist you. Facing an unexpected technical problem? Recover quickly thanks to our Helpdesk agents. Weber has a vast network of help desk staff, fully trained and qualified to provide support for a huge range of specialist labelling and coding systems.

We also have the dedicated call centres, equipment and expertise required to deliver this important service from the outset. Every day, we do our very best to ensure continuous operation of your labelling systems with rapid and reliable support. They are equipped with the latest real-time, order-entry systems to promptly handle your requests.
Our goal is to ensure that all of our customers are satisfied doing business with Weber. In a recent survey, Weber clients rated our customer service representatives amongst the best at providing fast and friendly service.
Software Support
Weber's expert Customer Support Specialists are ready to assist you with software and application questions that require immediate attention. We can provide answers and technical help for problems relating to our Legitronic Labeling Software and labeling equipment. Don't hesitate to contact us to make your labeling operation run more smoothly.
Service Department:
Software Support:
Labelling Software Support: