Weber LA 4050 P
Two-sided pallet labelling The Weber LA 4050 P pallet labeller allows the labelling on two adjacent sides. Up to 7 pallets can be labelled per minute, depending on the application. Variable data (e.g. text, barcode or logo) are printed precisely and legibly on the labels immediately before the application procedure. The labels are subsequently applied…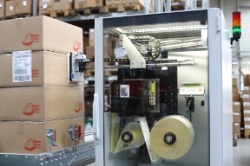 Two-sided pallet labelling
The Weber LA 4050 P pallet labeller allows the labelling on two adjacent sides. Up to 7 pallets can be labelled per minute, depending on the application. Variable data (e.g. text, barcode or logo) are printed precisely and legibly on the labels immediately before the application procedure. The labels are subsequently applied using swing-arm technology with diagonal bar. This patented process is very safe: the pallet rolls back out in the event of a power failure, for example. If, in doing so, it should come into contact with the extended applicator arm, the bar automatically pushes the arm out of the way.
Flexible
Products of varying dimensions can be labelled due to the large swing-arm radius of 400 mm. Thanks to the Tamp-Blow, LA 4050 P can also flexibly label boxes, crates and other types of packaging, including convex or concave-shaped product surfaces. Labeling is possible in any conceivable installation position due to the symmetrical design. The compact dimensions of 1000 x 800 x 1200 mm (L x W x H) allow easy integration into existing production environments.
Ease of servicing
LA 4050 P has a built-in service interval counter which informs the user in good time of the next service date. Easy, fast replacement of individual components, due to wear for example, is also a practical feature due to the modular construction. The print module, for example, can be replaced with only 5 screws and 2 cables.
Application capacity
Up to 7 pallets per minute without stopping product, the application capacity is dependent on conveying speed, text change and stroke
Max. conveying speed on front labelling
18 m/min
Max. conveying speed on rear labelling
15 m/min
Choice of options:
RFID labeling
Test scanner
System base
IPC in protective housing
Legitronic® label printing and design software
Inkjet nozzles can clog and dry up in a dusty printing environment, which is typical in wood-processing enterprises and other sectors. This results in poorly printed images. Our Markoprint Shutter Printhead HP prevents dust from entering the ink cartridge or gathering on the nozzles. During a production halt, the printhead automatically retracts the cartridge and shuts the open nozzle plate. After being paused for even several days, it is instantly ready to print again.

View Product

---

Unleash the Power of Proven Washdown Technology (IP Protection) for Seamless Performance in Complex and Demanding Applications. Experience High-Speed Printing and Effortless Operation with Up to 10 mm Print Distance. Discover Impressive Innovations, including a Patented Mechanism for Secure Ink/Printhead Unit Hold, Setting a New Standard in Printing Excellence.

View Product

---

EASYMARK is the standard Weber wax ribbon which delivers consistent print
quality on any kind of paper label materials. It prints high density legible
barcodes and traceability data for short life labeling needs.

View Product

---

The new Markoprint Integra Quadro/Quadro² print controller can control up to four inkjet printers or four print positions at the same time. This allows you to print on both sides of primary and secondary packaging on one or two separate production lines. There are also two separate printing methods that can be used in this process.

The Markoprint Integra Quadro/Quadro² can easily cope with limited space thanks to its slender design. Installation inside or directly at the industrial line is straightforward thanks to the different fixation options. It was designed specifically for installation in control panels and machinery.

View Product

---