Weber 114 One-Sided/Two-Sided Labelling System
The brand-new Weber 114 system provides a simple, cost-effective solution to low volume labelling for applying labels to one or two sides of a straight-walled product or package. The Model 114 can be added to in-place production lines or operated manually as a stand-alone applicator.
The Weber 114 is easy to use and can be set-up quickly. During application, labels are peeled away from the liner and securely attached to products using the wipe-on label applicators.
The unit boasts robust steel construction making it perfect for lower-volume, intermittent labelling projects or multiple-shift larger-scale operations. This is a very reliable wipe-on application system that is built to last.
Applies label up to 6″ high x 12″ long
Handles up to 45 products/minute
Placement accuracy of 0.03″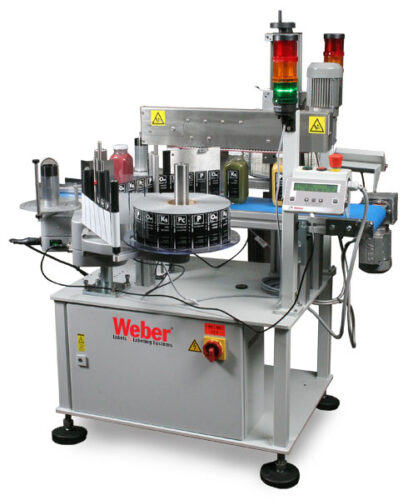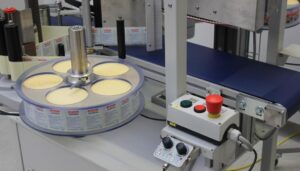 Each version of the Alpha Compact features rugged die-cast aluminium construction, single-key calibration, automatic recognition of missing labels, in-production speed adjustment and more.
The controller for the Weber 114 features a display HMI that replaces the operator's panel with an LCD display that provides full access to all adjustment parameters.
ZEBRA ZT510 – NEXT-GENERATION PRINTING THAT IS BUDGET-FRIENDLY

Designed to strike the ideal balance between performance and value, the Zebra ZT510 includes the core features you need in an industrial printer at a cost-effective price point.

View Product

---

A Quick & Compact Scanning Solution

The increasing demands on international commerce and its global supply chain are pressurising businesses to deliver more and deliver faster. From manufacturing to logistics to the end customer, success is driven by the ability to move quickly and track the products that drive your business.

Now you can address it all with the compact Zebra FS10 Fixed Industrial Scanner. With a slim profile, the FS10 fits easily everywhere you need scanning. Just plug the FS10 into the USB port of a workstation, laptop, tablet or any other host device to dependably capture barcode data, from assembly to storage and fulfilment.

View Product

---

Enable Performance. Inspire Potential. Experience The Difference.

Today more than ever, the increasing demands of international commerce and its global supply chain are pressuring companies to deliver more — and to do it faster. From manufacturing to logistics to the end customer, success is driven by the ability to quickly move and track the products that drive your business.

Address it all with Zebra's FS40 Fixed Industrial Scanner designed to meet the comprehensive requirements of today's production and delivery processes. The FS40 easily keeps pace with the fastest moving operations, enabling track-and-trace through the automatic and flawless decode of information on every part and package as it moves through production, storage and fulfilment — capturing even the most challenging barcodes. The result? Best-in-class production, warehousing, distribution and logistics processes that inspire businesses to reach their highest potential.

View Product

---

Labeling systems are not always easy to integrate into preexisting production lines. The Markoprint Integra One can be easily integrated into production processes thanks to its compact dimensions of 186 x 86 x 98 mm. The printing system has a display for data entry as well as system settings modification and verification. This information can also be viewed from mobile devices if the WLAN version is selected.

Inkjet printers should be properly protected if they are subjected to harsh manufacturing circumstances. In addition, the Markoprint integra One ip has an IP 65 protection rating. As a result, it's ideal for use in the food industry.

View Product

---