Vitamin Labels
An eye-catching label plus important info. If you have ever looked down the vitamin aisle at your local store, you can see that the different products are branded by color and label design. People need to trust their vitamin and supplement supplier so your label needs to reflect quality as well as contain the important information needed to use the product safely and effectively.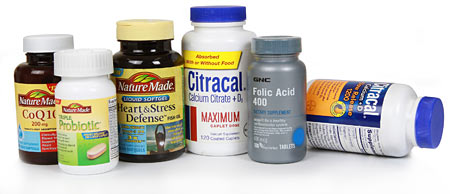 Weber can help you with your printing needs for all types of vitamin labels whether simple wrap-around labels of complex extended-text booklet labels. And we can help you redesign your labels to refresh your brand with a new look that will keep you out in front of the competition.
Vitamin Label Tips
Materials:
Clear labels con give a unique look by letting the container color or product show through.
Foil facestocks and hot foil stamping can give your label a more sophisticated look that gives your brand more value.
Lamination on your vitamin labels will protect the product while in use in wet or humid environments.
Artwork:
Vitamin labels need to be colorful and reflect the nature of the product.

A fresh redesign can help your brand stand out from the competition on the long shelves of vitamins at the store. A unique color helps create a family of products that can be trusted.

Add an extended-text booklet to your label to give additional health and safety information.

Connect your customers with your brand by including a QR Code directed to your social media pages.
Adobe Reader is required to open and view PDF files. This can be downloaded free from adobe.com.
Available Documents
Fast 4-inch thermal printers that are easy to use, easy to deploy and easy to manage, then choose the ZD420. Daily operation couldn't be simpler, thanks to a new ribbon cartridge with more status icons

View Product

---

The ZD410 healthcare model offers all of the features of the standard model plus disinfectant ready plastics and an IEC 60601-1 compliant power supply. Designed for hospital, clinic, laboratory and pharmacy applications, the direct thermal ZD410 helps to protect privacy by leaving no record on a ribbon of what has been printed. The optional 300 dpi print resolution is ideal for printing small labels. The ZD410 healthcare model is currently available for purchase only in North America and the European Union countries. It will be launched in other countries throughout 2016.

View Product

---

Zebra GK420t Healthcare Desktop Printer

Zebra's GK™ Series and GT800 desktop printers combine dependable printing with fast print speeds and network manageability. With their easy-to-use design, Zebra's advanced desktop printers enable you to improve operational efficiencies.

View Product

---

Low-cost offline coding system; ideal for companies looking to automate their date marking process for the first time.

View Product

---