RL4e
Datamax-O'Neil built its reputation on rugged and reliable portable receipt printers and has now used this expertise to design the industry's most rugged portable label printer. The RL4e (4-inch/102mm) is a durable direct thermal printer with a rugged design and reliable performance that will continue to operate long after other printers have failed. We're so confident in the quality and long-term reliability of this rugged printer that we include a 2-year warranty free of change.
Anybody who's ever been in a warehouse knows that when shipments are processed more quickly and effectively, productivity is increased and errors are reduced. The RL4e improves efficiency and productivity by allowing workers to print and apply barcode labels directly at the point of application. Using an RL4e to print on-demand labels also eliminates the danger of mixing up batch-printed labels and saving thousands of dollars in potential shipping errors. The portable printer can even be mounted on fork trucks for added convenience and versatility.
We've made integration easy. Replace existing label printers using Datamax-O'Neil's language emulations. The RL4e is compatible with most popular warehouse management software programs, independent label design programs and remote management packages.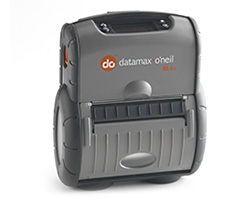 The RL4e has many outstanding features that offer equally outstanding benefits. Below is a brief list of the features and benefits you will experience using the RL4e printer.
Rugged and Reliable – With uncompromising standards, the RL4e endures even the most punishing environments, and passes the MIL-STD 810F drop testing requirements. The RL4e is so rugged it continues to print after 26 consecutive drops to concrete from 6ft (1.8m) even when tested at extreme temperature conditions.
Complete Line of Accessories – The versatile RL4e comes with a wide selection of charging and mounting accessories that allow it to be worn on the hip, mounted in a truck or even mounted and powered from a forklift operating system.
Easy to Integrate – The RL4e comes with popular language emulations that allow you to easily replace existing printers in the workplace. The printer is also compatible with most popular WMS packages and offers optional wireless 802.11 and Bluetooth connectivity.
Great Battery Power – The long lasting lithium-ion battery offers maximum power capacity for a full 8-hour shift, even under the toughest conditions.
Easy to Use – Nobody likes to change the paper roll, but we've made it so easy you can do it with one hand. We've also included an easy to read LCD screen with simple user interface buttons and a peel-and-present mechanism for quicker label application.
Complete Line of Media & Supplies – Our Certified Label Supply Program ensures optimum, trouble-free performance from the RL4e and guarantees the highest quality print output and image stability.
Two Year Warranty – Comes with the industry's only two-year standard warranty – twice that of the competition!
Excellent Mobile Device Management Tools (MDM) – Scripting Capabilities include LUA, JSON, SKyze, Qualsoft, and Airwatch.
Benefits:
Enable Operational Efficiencies – In many retail stores, workers travel to and from an office to pick up "batch printed" labels.  While this method works, it also creates wasted movement and potential labeling errors which result in loss of revenue or confused customers.  The RL4e eliminates the danger of "label mix up" by printing labels at the point of application.  And since workers aren't wasting time traveling to a back office, they are more productive and free to help customers.
Improve Productivity – The RL4e is built to keep pace in a busy warehouse or retail store. Downtime is reduced when compared to other solution thanks to extra ruggedness, large media roll capacity and a battery that stays charged for a full shift and has some leftover for the next. In addition to these productivity gains the IT staff will enjoy easier integration due to its language emulation and secure wireless connectivity
Improve Customer Service – In today's tough economic times, every customer counts and you can't afford to lose a customer.  Keeping your worker on the retail floor or in a warehouse longer tending to customers is possible with the unique design of the RL4e.  Built with double wall construction, magnesium parts and a gear train designed for these environments keeps the printer working longer than many other solutions and is backed by the industry's only standard two-year warranty.  In addition to this the consistent print quality and speed over a battery charge helps you to complete their transaction faster and produces the most legible receipt or label.
https://www.youtube.com/watch?v=p7AwHh_9IFY
ZEBRA ZT510 – NEXT-GENERATION PRINTING THAT IS BUDGET-FRIENDLY

Designed to strike the ideal balance between performance and value, the Zebra ZT510 includes the core features you need in an industrial printer at a cost-effective price point.

View Product

---

ZT400 printers feature USB, Serial, Ethernet and Bluetooth® connectivity along with expanded RFID capabilities. Plus, with Zebra's Link-OS® environment, an innovative operating system, your customer can easily integrate, manage and maintain these printers from anywhere in the world.

View Product

---

ZEBRA ZT600 SERIES – INDUSTRIAL BRAWN FOR EVERY CHALLENGE

Advancing the legacy of the industry-leading Xi Series, the Zebra ZT600 Series printers combine rugged durability and exceptional performance on a user-friendly, future-ready platform.

To keep your critical operations running smoothly, you need high-performance industrial printing systems that can stand the test of time, both physically and technologically. Zebra's ZT610 and ZT620 advance the legacy of their industry leading Xi Series predecessors, offering next-generation operational visibility, control and adaptability to meet your evolving needs—all with the rugged durability and 24/7 reliability you expect from Zebra.

View Product

---

Portable, Handy, Smart. The TH2 direct thermal 2″ standalone printer is truly revolutionary.

View Product

---