Retail Software
Retail Mobile Solutions Whether you are looking for an online, fully  integrated solution or a simple office solution, Weber makes moving to a modern mobile  logistic and sales-assistant solution easy. The retail software solution gives your stores new and  more efficient ways handle logistics and  support your customers shopping. Retail Mobile Logistics Solutions Inventrory…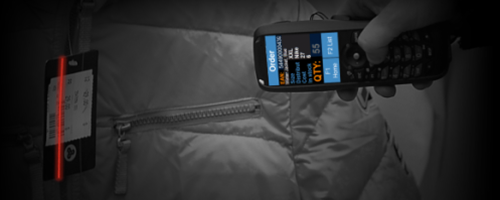 Retail Mobile Solutions
Whether you are looking for an online, fully  integrated solution or a simple office solution,
Weber makes moving to a modern mobile  logistic and sales-assistant solution easy. The retail software solution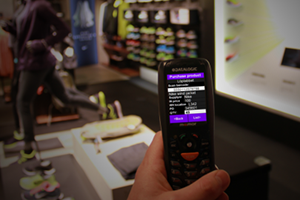 gives your stores new and  more efficient ways handle logistics and  support your customers shopping.
Retail Mobile Logistics Solutions
Inventrory counting app are the most common in Retail
Here are some more examples of where mobile solutions are used in Retail:
– Reciving goods app
– Price and shelf label printing app
– Order products from suppliersa app
– Move good from one store to another app
– Reciving goods app
– Mobile store sales assistant app
– Que busting app
Adobe Reader is required to open and view PDF files. This can be downloaded free from adobe.com.
Available Documents
software-brochure
Inkjet nozzles can clog and dry up in a dusty printing environment, which is typical in wood-processing enterprises and other sectors. This results in poorly printed images. Our Markoprint Shutter Printhead HP prevents dust from entering the ink cartridge or gathering on the nozzles. During a production halt, the printhead automatically retracts the cartridge and shuts the open nozzle plate. After being paused for even several days, it is instantly ready to print again.

View Product

---

ZEBRA ZT510 – NEXT-GENERATION PRINTING THAT IS BUDGET-FRIENDLY

Designed to strike the ideal balance between performance and value, the Zebra ZT510 includes the core features you need in an industrial printer at a cost-effective price point.

View Product

---

Enable Performance. Inspire Potential. Experience The Difference.

Today more than ever, the increasing demands of international commerce and its global supply chain are pressuring companies to deliver more — and to do it faster. From manufacturing to logistics to the end customer, success is driven by the ability to quickly move and track the products that drive your business.

Address it all with Zebra's FS40 Fixed Industrial Scanner designed to meet the comprehensive requirements of today's production and delivery processes. The FS40 easily keeps pace with the fastest moving operations, enabling track-and-trace through the automatic and flawless decode of information on every part and package as it moves through production, storage and fulfilment — capturing even the most challenging barcodes. The result? Best-in-class production, warehousing, distribution and logistics processes that inspire businesses to reach their highest potential.

View Product

---

To enable continuous marking in ongoing production, our Markoprint NonStopPrinting printhead holds two alternately printing cartridges. Because the other ink cartridge is printing on the same position, each ink cartridge can be changed, cleaned, or serviced without pausing the machine.

An intelligent automatism prevents both cartridges from going empty at the same time. The first cartridge will always print two consecutive print jobs, taking turns with the second cartridge, which will only print one. This sophisticated automatism avoids both cartridges from running out at the same time. This will keep the ink from drying out in both cartridges. When the cartridge with the larger print volumes is empty, a warning will show, and the other cartridge will continue printing until it is replaced. The new cartridge will print the lower quantities to allow for you to replace the "older" cartridge. A sophisticated workflow that will boost your efficiency and productivity.

View Product

---