Legitronic® Labeling Software
Weber's proprietary Legitronic Labelling Software provides the versatile label design, printing and RFID encoding features that are required to meet today's labelling requirements. The software is easy to use yet robust enough for industrial applications that need to use large databases.
As the cornerstone of our complete labelling systems, it is fully compatible with our extensive line of labelling equipment as well as most Zebra, Datamax and SATO label printers and print engines. An FDA compliance version also is available.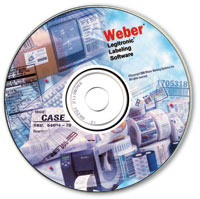 Legitronic® Labelling Software


Weber's Legitronic Labelling Software offers many advanced features to simplify label creation – but that's just the beginning. Our exclusive software also provides powerful information tools that integrate with other applications to streamline an entire operation.
Flexible Design Features
Single-screen user interface
•WYSIWYG design screens
• Simple point-and-click operation
• Graphics compatibility with BMP, EPS, JPEG, PCX, WMF, TIFF, WPG and TGA files
• Supports all popular bar code symbologies
• Supports native printer fonts and bar codes, plus Windows® TrueType® fonts and Unicode characters
• Accepts constant and variable data
• Left/centre/right justification for text fields; flush right/left for paragraphs; auto word wrap; field concatenation
• Label design in any orientation
• Units of measure in inches, centimetres or printer dots
• Selectable bar code ratio, check digits, human-readable characters and module width
• Label margins and inter-label gap selection
• Auto incrementing, decrementing and full character serial numbers
Advanced Editing Features
Powerful Printing Capabilities
Information Processing
Additional Features
VBA-enabled for customization of label design and label printing solutions
•Multi-lingual prompts and foreign language versions available
RFID Encoding Features
Secure Series for FDA Compliance
Weber's Secure Series is a version of Legitronic Labelling Software that includes the new Security Administrator that helps meet the requirements of FDA 21 CFR Part 11, a compliance standard regarding electronic records and electronic signatures.
While this specialized package is essential for FDA compliance, it also can be used by companies that wish to record and retain secure label information as a by-product of the labelling process. Key features include:
Ability to discern altered records
•Ability to generate copies of electronic records in human-readable and electronic form
• Enables the accurate retrieval of electronic records
• Limits system access
• Keeps a time-stamped audit trail of various actions
• Provides extra security measures for open systems
• Maintains numerous electronic signature requirements, components and controls
Adobe Reader is required to open and view PDF files. This can be downloaded free from adobe.com.
Available Documents
software-brochure
An Easily Integratable Scanning Solution

The increasing demands of international commerce and its global supply chain are pressuring companies to deliver more — and to do it faster. From manufacturing to logistics to the end customer, success is driven by the ability to quickly move and track the products that drive your business.

Address it all with the compact Zebra FS20 Fixed Industrial Scanner. With the FS20, it's easy to track and trace every item as it moves through production, storage and fulfilment. Scan barcodes on components moving through your assembly line to ensure the right part is used at the right time — and enable rapid targeted recalls of products that contain defective parts. Scan barcodes on items as they are placed on warehouse shelves to provide visibility into real time inventory. And scan barcodes when fulfilling orders to ensure the right items are sent to the right customer. Whatever you want to track and trace, the FS20 makes it easy.

View Product

---

To enable continuous marking in ongoing production, our Markoprint NonStopPrinting printhead holds two alternately printing cartridges. Because the other ink cartridge is printing on the same position, each ink cartridge can be changed, cleaned, or serviced without pausing the machine.

An intelligent automatism prevents both cartridges from going empty at the same time. The first cartridge will always print two consecutive print jobs, taking turns with the second cartridge, which will only print one. This sophisticated automatism avoids both cartridges from running out at the same time. This will keep the ink from drying out in both cartridges. When the cartridge with the larger print volumes is empty, a warning will show, and the other cartridge will continue printing until it is replaced. The new cartridge will print the lower quantities to allow for you to replace the "older" cartridge. A sophisticated workflow that will boost your efficiency and productivity.

View Product

---

The Geset 125 labelling system is used to label cylindrical products automatically. Depending on the type and dimension of the product, different label sizes are used. The products are fed manually or by a conveying system provided by the customer at an infeed passage of the labelling system. Care should be taken on accurate alignment of the products between the two freely mounted rollers of the roll conveyor. The side guide's position the products flush with the outside edge of the roll conveyor.

The roll conveyor feeds the products to the labeller. There the label is applied with the part running forward onto the product and it is pushed by rotation and the back pressure of the wrapping unit onto the product. The back pressure of the wrapping unit (the speed of the wrapping unit is twice as fast as the speed of the base conveyor) enables the product in rotation. The roll conveyor forwards the finished labelled products to the outfeed. Here the products are removed manually or by the customer's conveying system.

View Product

---

The Geset 112 labelling system is used to label square products on the bottom side automatically. Depending on the type and dimension of the product, different label sizes are used. The products are fed manually or by a conveying system provided by the customer at an infeed passage on the labelling system. Care should be taken on accurate alignment of the products. It is essential that the products are forwarded separately to the applicator with a gap between each other.

When the light barrier is reached, an application trigger is tripped. The label applicator applies then in Wipe On procedure a label onto the product. The label on bottom side is pushed on the product by the self-weight of the product. After labelling the products move on and can be removed from conveyor by the customer.

View Product

---