Booklet Labels
Many products, especially medicines and nutraceuticals, need to provide additional information to their customers regarding dosage and safety concerns. While space on a container is limited, you can get around that limitation by using a booklet label.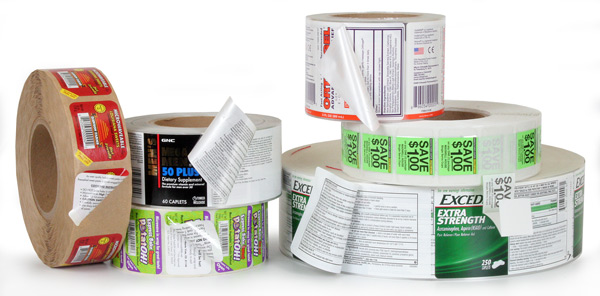 Give your customer the all the information they need with extended text labeling.
Weber can help you decide on the right type of label and materials that will look great and yet be durable enough to take repeated use and re-closing of the labels.
Extended Text Label Tips
Materials:
Booklet labels are tricky and require testing to make sure they will work the way you want them to. Plan ahead and check all your options.
Be sure to use label materials that will stand up to damp and abrasive conditions as well as frequent handling of the booklet label.
Always test your label adhesives to make sure they will stick securely to your containers, especially plastic bottles and curved shapes.
Artwork:
While you can get a lot of text onto a booklet label, make sure you have it proofread thoroughly to avoid costly mistakes.
Make sure your label indicates that more information is available underneath!
Use a die cut shape or other device to make it easy for people to peel-open the label. Take into consideration the elderly if they will be using it.
Add a QR code so your customers can interact with your company, get coupons, and more.
---
Excedrin Booklet Label

This pain-reliever label opens to add two pages of Drug Facts about the product. The long-lasting adhesive on the outside edge keeps the resealable flap working. The label is printed on a glossy white film which makes it virtually impossible to accidentally tear when opening.

Label Size: 5.75″ wide x 3.0″ high

Facestock: Glossy white film

Print method: Flexo

Top Coat: None

Orthogel Booklet Labels

This label is another prime example of needing additional space for Drug Facts information. By printing on the back inside page, they were able to put all of their warnings and directions in one place.

Another advantage of putting this info inside the booklet is that it will be protected over the years from abrasion and abuse that might render it unreadable.

Label Size: 4.75″ wide x 3.25″ high

Facestock: Glossy white film

Print method: Flexo

Top Coat: None
Adobe Reader is required to open and view PDF files. This can be downloaded free from adobe.com.
Available Documents
The TC51/TC56 touch computer is sleek and beautiful—yet smart, rugged and hardworking. Designed for the new business world, users get a rugged industrial design that looks and feels like the most popular pocketable consumer-style smartphones to meet worker expectations, along with the enterprise-class features, power, security and manageability a business requires.

View Product

---

ACHIEVE CUSTOMER SERVICE EXCELLENCE AND ASSOCIATE PRODUCTIVITY

Add value to the customer experience with targeted promotions and offers based on buying preferences. Empower store associates to more efficiently manage inventory and pricing at the shelf edge. Reduce your overhead costs and improve customer loyalty with the MC Series multi-function retail mobile computer.

View Product

---

Fast 4-inch thermal printers that are easy to use, easy to deploy and easy to manage, then choose the ZD420. Daily operation couldn't be simpler, thanks to a new ribbon cartridge with more status icons

View Product

---

The ZD410 healthcare model offers all of the features of the standard model plus disinfectant ready plastics and an IEC 60601-1 compliant power supply. Designed for hospital, clinic, laboratory and pharmacy applications, the direct thermal ZD410 helps to protect privacy by leaving no record on a ribbon of what has been printed. The optional 300 dpi print resolution is ideal for printing small labels. The ZD410 healthcare model is currently available for purchase only in North America and the European Union countries. It will be launched in other countries throughout 2016.

View Product

---